Dir/scr: Anna Boden, Ryan Fleck. US. 2014. 108mins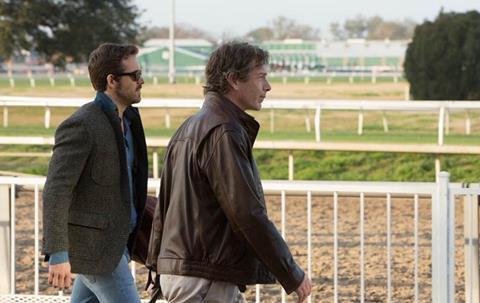 Inspired by 1970s Hollywood films such as Five Easy Pieces and The Last Detail, Mississippi Grind tells the story of Gerry (Ben Mendelsohn), a sad-sack 44-year-old poker player who gets a shot at a comeback thanks to the arrival of a charismatic stranger named Curtis (Ryan Reynolds). Though the film takes on the appearances of a road-trip movie or a buddy con-man comedy, it's most successful as a piquant character study of a middle-aged loser, fantastically played by Australian actor Ben Mendelsohn (Animal Kingdom, Starred Up).
Mississippi Grind adoringly captures slices of down-and-out Americana along the way, from the neon street signs of dive bars to the dilapidated facades of honkytonk joints, nightclubs and racetracks.
Reynolds may be the film's name star, but Mississippi Grind belongs to Mendelsohn, offering further proof of the actor's mastery of the craft. Mendelsohn delivers an utterly convincing performance as an Iowa real estate man with a serious gambling problem. With his sorrowful, wrinkled eyes, disheveled hair and slightly scratchy voice, Mendelsohn's Gerry is a perfect picture of a man past his prime who can't catch a break.
But as a dramatic story, the film may disappoint audiences expecting an indie version of The Gambler. (In a nod to the original 1974 film of the same name, that film's writer James Toback appears in a cameo.) Directed by Ryan Fleck and Anna Boden, who previously offered original takes on the inspirational teacher story (Half Nelson) and the aspirational sports movie (Sugar), the film also upends the conventions of its predecessors to present something altogether new. But less narratively successful than Half Nelson and Sugar, Mississippi Grind will face a tough road in commercial markets.
After a meet-cute between Curtis and Gerry at a small-time Iowa poker game, the two hit it off instantly. Gerry sees in the magnetic Curtis some kind of lucky charm—at one point even calling him a "handsome leprechaun." The notion that there may be gold under the rainbow is hinted at more than once in the film; the movie opens with a rainbow, and then, throughout, Gerry sees references to rainbows—in the names of racing dogs or a computer slot machine—which he thinks are signifiers of potential much-needed wins.
Suffering under the weight of massive gambling debts, Gerry crafts a plan to accompany Curtis to a high-stakes poker game in New Orleans, and make enough money gambling down the Mississippi River to post the minimum entrance price of $25,000. Things don't exactly go as planned.
But the core relationship between Gerry and Curtis doesn't carry the journey. Whether it's a script problem or the fact that Reynolds is no Jack Nicholson, the bond between these two men never congeals. Mendelsohn's Gerry is a deeply flawed man who continually makes bad choices, which reveal his weaknesses and vulnerabilities. There are some terrific scenes revolving specifically around Gerry: one involving his ex-wife; another when he sleepily admits his foibles to a young woman; another in which his manic yearning for a winning horse reveals his sad desperation. But what does Curtis want? And what does he see in this perennial loser, and why does he stick around to watch him continually fall on his face?
Fortunately, the film's last act offers a refreshing and redemptive—though slightly unbelievable—final twist. And the film culminates in a beautifully ambiguous last shot, forcing the viewer to reflect on Gerry's condition rather than offer him (or us) any easy outs.
With the help of Boden and Fleck's ace cinematographer, Andrij Parekh, Mississippi Grind adoringly captures slices of down-and-out Americana along the way, from the neon street signs of dive bars to the dilapidated facades of honkytonk joints, nightclubs and racetracks. In this way, like Half Nelson and Sugar, the film continues Boden and Fleck's interest in capturing the failures of the American Dream with a fondness and sensitivity. In Mendelsohn's Gerry, they have crafted a resonant character in which to reflect these themes. But the story that surrounds him is less of a sure bet.
Production Company: Sycamore Pictures, Electric City Entertainment
International sales: Annapurna International, http://annapurnapics.com
Producers: Jamie Patricof, Lynette Howell, Tom Rice, Ben Nearn
Executive Producers: Jeremy Kipp Walker, John Lesher, Randall Emmett, George Furla
Cinematographer: Andrij Parekh
Editor: Anna Boden
Production designer: Jade Healy
Music: Scott Bomar
Main cast: Ryan Reynolds, Ben Mendelsohn, Sienna Miller, Analeigh Tipton, Alfre Woodard, Robin Weigert