Dir: Gerald Fox. UK-France. 2012. 95mins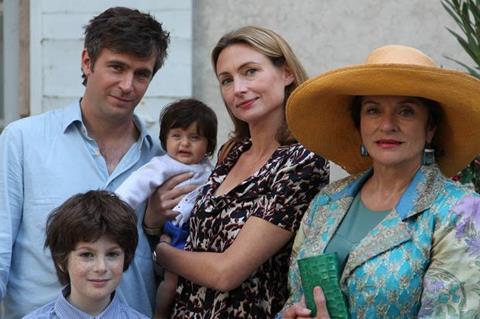 An attractively staged adaptation of Edward St Aubyn's Booker-shortlisted 2006 novel, Mother's Milk is punctuated by a series of strong performances that help give a sense of momentum to the modest drama. Jack Davenport's deliciously cynical delivery is perfectly suited to the story, while the lush rural French locations give the film a real sense of atmosphere.
The humour is nicely dry, with Davenport at his very best when it comes to delivering withering one-liners.
While perhaps too modest to click theatrically – though Davenport's current profile with his role in US television series Smash may help in terms of promotion – Mother's Milk is an easy sale to broadcasters (and it feels rather television in terms of presentation) and home entertainment.
Davenport stars as Patrick Melrose, who with his wife Mary (Annabel Mullion) and two young sons are on holiday in their much-loved family home in Provence. His dementia-stricken mother (a strong performance by the late Margaret Tyzack) has bequeathed the lovely house to Irish New Ager Seamus Dorke (Adrian Dunbar) who has set up a 'Transpersonal Foundation' at the house.
Patrick believes that as part of the arrangement he and his family can still spend their summer holidays at the house, but finds himself constant conflict with Seamus. Unable to get through to his stroke-ridden mother, Patrick descends into drunkenness and despair, embarks on a brief affair, and fights to keep control over his feelings towards Seamus and his plans for the house.
Much of the story is seen through the eyes of Patrick's son Robert (Thomas Underhill), who is jealous of his new baby brother, while Mary's mother Kettie (delightfully played by Diana Quick) crops up for a telling cameo. Tom Hollander narrates the story, and while this device offers more depth to the story it never really succeeds in filling in all of the dramatic gaps.
Gerald Fox, best know for arts documentaries, has a strong cast but offers little in the way of imaginative direction and moves his camera too much at times when often the story calls for moments of stillness for the story to develop. But the humour is nicely dry, with Davenport at his very best when it comes to delivering withering one-liners.
Production company: Foxy Films, Guerilla Films
Contact: Guerilla Films, www.guerilla-films.com
Producer: Gerald Fox
Executive producers: Melvyn Bragg, David Nicholas Wilkinson
Co-producers: Zara D'Abo, Edward St Aubyn
Screenplay: Gerald Fox, Edward St Aubyn
Cinematography: Steve Haskett
Editor: John Street
Music: David Ogilvy
Website: www.mothersmilk-thefilm.com
Main cast: Jack Davenport, Margaret Tyzack, Annabel Mullion, Diana Quick, Adrian Dunbar, Thomas Underhill, Tom Hollander, Annette Badland, Flora Montgomery