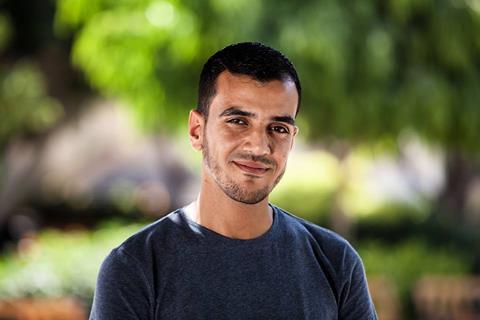 A Palestinian cameraman who worked on dissident Chinese artist Ai Weiwei's Human Flow as well as on compatriot Basma Alsharif 's feature Ouroboros, has died after being shot while covering clashes between Gaza protestors and the Israeli military on Friday.
Both Palestinian and Israeli media outlets reported that Yasser Murtaja, 30, was shot in the stomach by the Israeli military while covering demonstrations along the Israel-Gaza border and died later in hospital.
Murtaja, who was married with a young son, was a rising star in Gaza's media scene where he was a co-founder of the Ain Media, a collective of a dozen local media professionals, which has worked with Al Jazeera, BBC Arabic and Vice in the past.
A talented self-taught cameraman, Murtaja had spread his wings into cinematic work of late. Most recently he worked on US-based Palestinian artist and filmmaker Alsharif's Ourosboros, a multi-layered, feature-length portrait of life in Gaza which world premiered at the Locarno Film Festival in 2017.
"He was our PD and line producer for Ouroboros. He filmed all the Gaza scenes," producer Mohanad Yaqubi of Ramallah-based Idioms Films told Screendaily on Saturday. Yaqubi added that Murtaja had continued to work with Idioms Films as a production manager in Gaza.
"I'm currently downloading his latest filming for a work we're doing in collaboration with the Rosa Luxemburg Foundation, which is very hard to do, but a must," Yaqubi said.
"It's heartbreaking. He was a true talent who stood out in such harsh conditions, with no proper cinematic education and any institutional environment. He managed to keep working, with all types of cameras, any conditions, and he always did his best.
"I remember when we did Ouroboros, there was a scene in a house, which is considered the longest one-shot scene in Palestinian cinema. It took him two days to do the correct mise-en-scene. He kept on repeating it until he mastered the movement. It's an amazing scene."
Murtaja's other cinema credits include assistant camera for the scenes shot in the Gaza Strip on Ai Weiwei's documentary Human Flow, which captures the tragedy of the global migration crisis.
Award-winning Palestinian filmmaker Mohamed Jabaly, whose credits include the documentary Ambulance, a portrait of Gaza crews that premiered in CPH:DOX last year, described Murtaja as "a creative guy, who always had a smile on his face."
Jabaly continued: "We didn't work in a formal way, but we were often together in the field and on the frontline, trying to capture the moment and what we were witnessing."
Murtaja, he said, had begun working professionally as a cameraman in early 2012, setting up Ain Media later that year. The team covered the 2014 Israel-Gaza war, in which 2,251 Gaza residents died according to UN figures.
"Yasser and his co-workers covered the war. Their footage is some of the most important footage to come out of the war," said Jabaly, who is currently based in Norway . "Losing him is a loss. It's a big shock for everyone."
Murtaja was among at least nine people killed by Israeli gunfire on the second Friday of the so-called March to Return demonstrations. Gaza's ruling militant Islamist group Hamas orchestrated the demonstrations to coincide with Israel's 70th Independence Day, which Palestinians view as a catastrophe and refer to as Nakba Day.
Media posts showed him lying on the ground wearing a blue flak jacket marked "Press". The fact he was shot in the small part of his torso that was exposed has led to accusations that he was deliberately targeted by snipers. Israel has denied the charges.
Just days before his death, Murtaja posted aerial shots of Gaza on his Facebook page that he had shot using a drone, commenting that one day he would like to have the opportunity to take the same picture from the air in person.
Although he harboured dreams of travelling, the 30-year-old had never been able to leave the Gaza Strip at the time of his death.