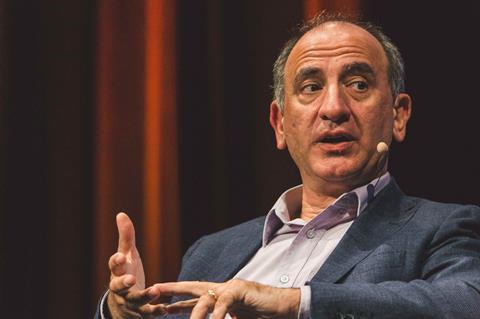 It isn't very long into a Saturday afternoon interview with writer-director Armando Iannucci before critic Glenn Kenny asks the political satirist behind Veep and The Thick of It about Donald Trump.
"He's the dead elephant in the room, isn't he?" Iannucci said.
"Satire is taking what's true and then twisting it, stretching it, bending it around and making an unusual shape. But that's what [Trump] does anyway in any of his tweets… He's his own satirist."
Iannucci is in Toronto for the world premiere of The Death Of Stalin, a dark comedy set during the days after the titular dictator's demise. The film, starring Jeffrey Tambor, Steve Buscemi, and Michael Palin is already earned a rave reception here in Toronto.
The filmmaker, whose last foray to the big screen was 2009's In The Loop, told a Toronto industry crowd he expressed interest in the film before making Veep. However, he had already committed to the HBO comedy he later helmed for four seasons.
Fortunately, the producers said they would wait.
"When I knew that my time at Veep was coming to an end… I got back in touch and said, Ok, let's do it."
The Death of Stalin is based on Fabien Nury and Thierry Robin's graphic novel, depicting the end of the Stalinist regime. While the book was spaced out over several months, Iannucci and the film's co-writers had the events in the novel play almost simultaneously while the funeral is being planned.
One intriguing creative choice was to let the international cast keep their native accents.
Iannucci says that the variance of accents reflects the number of dialects one would hear around the Soviet Union in 1953.
"What I didn't want to do is have our actors put on a false, fake Russian accent, which I think would have slowed down the rhythm of the dialogue," he said.
To prepare for the film, Iannucci visited Moscow, and reported that the film's somewhat-off production design – of big rooms without much furniture – reflects his findings.
Working on The Death Of Stalin felt right in the current political climate, the satirist said.
"The movie is about actually reminding you that democracy is not something that, once we have it, we have it forever," he told the Toronto crowd. "It's very fragile and it means it has to be supported and tended to every day. And maybe we've taken it for granted, and maybe we've thought, Oh, why bother voting?"
Iannucci, who says he is going to be working on a film adaptation of David Copperfield next year, also teased the audience with a project he is discussing with HBO.
"It will probably be set in the future," he said.
The audience let out a hum of excitement.
"If there is a future."