Drama Don't Tell, starring Rachel Griffiths and Jack Thompson, depicts a ground-breaking child sex abuse case in Australia.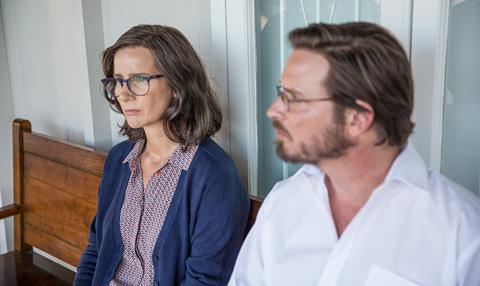 Cameras are rolling in Queensland on a dramatised account of a landmark civil action against the Anglican Church in Australia, which contributed to both the resignation of the governor-general, and the establishment of a royal commission into child sexual abuse.
Don't Tell, which has been dubbed by local media as 'Australia's Spotlight', explores the same subject matter as Tom McCarthy's 2016 best picture Oscar winner: the systemic mishandling of child sexual abuse allegations by religious institutions (whose members also committed the sex abuse crimes).
Producer Scott Corfield of fledgling production outfit Fornillo Road, described Don't Tell to Screen as "an inspiring fight for justice".
"It's very topical. This issue is front and centre, in Australia and sadly, across the world. Very rarely, though, is a film made that actually shows it from the perspective of the survivor."
The A$5m film is based on a book by lawyer Stephen Roache, who represented an abuse survivor ('Lyndal'), when she took action against the diocese of Brisbane for abuse she suffered as an 11 year-old student at a prestigious Anglican boarding school in 1990. Her tormentor was charged but committed suicide before the trial.
A decade later, Lyndal successfully sued the Anglican Church in Australia and received A$850,000 in damages, and the case triggered reforms to protocols for hiring teaching staff.
Lyndal's lawsuit implicated then-governor-general Peter Hollingworth, who was archbishop of Brisbane at the time of her abuse, and who had dismissed her claims as false.
In response to public outcry, Hollingworth apologised, but when other examples of his mismanagement of abuse allegations surfaced in 2003, he resigned from his position as the Queen's representative in Australia.
In 2012, then-prime minister Julia Gillard requested a national Royal Commission into Institutional Responses to Child Sexual Abuse. It commenced proceedings in 2013 and is now in its third year.
The courtroom drama boasts a strong line-up of Australian actors, with Aden Young, Rachel Griffiths, Jack Thompson and Jacqueline McKenzie leading the cast. It marks the feature film debut of director Tori Garrett, whose previous credits are predominantly in Oz network drama.
"All the feedback from the market was, 'It's a good story but it will be a tough sell. You can't do that without an amazing cast', so I set about pulling together the best cast I could," says Corfield.
The film is nearing the end of its five-week shoot in regional Queensland. Corfield anticipates the film will be complete in August, in time for autumn festival entry deadlines.
As a local feature film Don't Tell is eligible for the 40% producer offset, and Corfield said that despite early discussions with local distributors, his main focus is securing an international festival premiere for the film and having a local release follow.
"I had a couple of people wanting me to sign a distribution agreement but I'm going to show everyone at the end and negotiate the best deal," he said. "It's quite hard to get cut-through in the cinemas when it is caught up with tentpole films from some of the major studios."