A total of 18 work in progress projects will participate in this year's Nordic Film Market.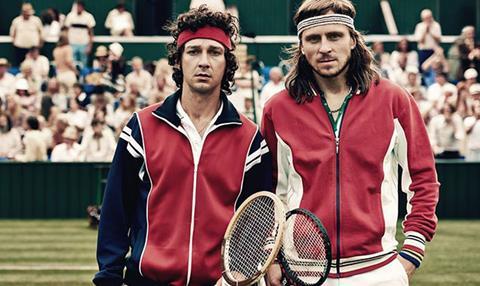 Scroll down for full line up
The works in progress titles set to take part in this year's Nordic Film Market (Feb 2-5) at the Goteborg Film Festival (Jan 27 – Feb 6) have been revealed.
Among them is Borg vs McEnroe, Jans Metz's tennis biopic starring Shia LaBeouf as John McEnroe and rising Swedish talent Sverrir Gudnason as his rival Bjorn Borg.
SF International is handling international sales and has already tied up multiple deals including Curzon Artificial Eye for the UK and Nordisk Film for Scandinavia.
Also featuring as a work in progress is The Square, the latest feature from director Ruben Östlund, whose credits include Bafta-nominated avalanche comedy-drama Force Majeure.
The Swedish filmmaker's English-language debut stars Elisabeth Moss and Dominic West in the story of an artist who installs an unusual exhibition in a public square. The Coproduction Office is handling sales.
Aku Louhimies's The Unknown Soldier is also set to feature at the event. The Second World War historical-drama shot in Finland in summer last year on a production that included 14,000 extras. Beta Cinema is handling international sales.
Elsewhere, there will be six titles participating in the Nordic Film Lab Discovery event. These include War, What If directed by Puk Grasten and produced by Regner Grasten; LevelK has boarded international sales.
Titles in the event's line-up of finished films include: Erik Poppe's Oscar long-listed war drama The King's Choice and Anton Sigurðsson's biopic Tom Of Finland.
Works in progress titles
A Horrible Woman dir. Christian Tafdrup
All In dir. Christian Dyekjær
The Charmer dir. Milad Alami
The Guilty dir. Gustav Möller
Darling dir. Maria Gade
Miami dir. Zaida Bergroth
The Eternal Road dir. AJ Annila
The Unknown Soldier dir. Aku Louhimies
Alma dir. Kristín Jóhannesdóttir
The Swan dir. Ása Helga Hjörleifsdótter
Lake Over Fire dir. Joern Utkilen
The Ash Lad: In The Hall Of The Mountain King dir. Mikkel Sandemose
The Outlaws dir. Henrik Martin Dahlsbakken
Becker - The King Of Tingsryd dir. Martin Larsson
Borg vs. Mcenroe dir. Janus Metz
Jimmie dir. Jesper Ganslant
The Real Estate dir. Måns Månsson, Axel Petersén
The Square dir. Ruben Östlund
Nordic Film Lab Discovery
War, What If dir. Puk Grasten
The Comet dir. Bård Røssevold
Bonsai Kitten dir. Viktor Johansson
Jessica dir. Ninja Thyberg
The Unpromised Land dir. Victor Lindgren