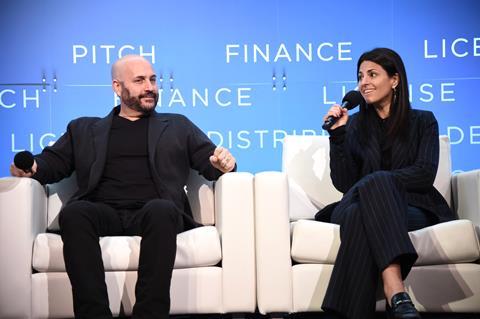 At the AFM finance conference yesterday (Nov 8) at the Fairmont Hotel, Aaron L Gilbert, chairman and CEO of Bron Studios, admitted that "we never had the aspiration to do what we're doing now" when he first started the company with wife Brenda back in 2010.
"When I came into the business 10 years ago, I had to learn, so the first few years of Bron were on small, indie films, trying to understand the international sales market, debt financing and how to put projects together."
Fast forward to 2019 and the Canadian-based financing and production company is riding high, from slate financing deals with MGM and Warner Bros to developing and producing its own titles. As the industry has evolved, so has Bron: "We stand firmly with one foot in the independent world and one foot in the studio world," said Gilbert.
As well as co-financing Warner Bros' global smash Joker, Bron stepped in last year to fully finance awards contender Bombshell after Annapurna Pictures pulled out.
With Bombshell, Bron was initially on board as a financing partner. But when the film started to fall apart at Annapurna, Ashley Levinson, Bron's chief strategy officer, convinced Gilbert and chief content officer Anjay Nagpal they should step up and rescue the project.
"I said, 'This is the reason we're in this industry because we want to tell these kinds of stories,'" said Levinson, who took part in the AFM panel with Gilbert and Nagpal. "With that amazing cast and [director] Jay Roach and his team, we believed they could do it, even with the limited pre-production time they had. We fully financed the film until we got distribution."
"I had hair when that one started," joked Gilbert. Lionsgate is releasing Bombshell in the US and UK, and the film has garnered early awards-season buzz.
While The Birth Of A Nation and Fences put the company on the industry map (and set out its stall as a company with diversity built into its DNA), Bron now has the ability to co-finance bigger budgets through its partnership with capital fund Creative Wealth.
"Because of our relationships at the studio level, we're able to develop our projects in house, package them with whoever we want and then go out to find the right studio partner for those movies," said Gilbert. "Some stories have to be told in the right way and at the right budget. We are getting involved financially in stories at every budget level."
"We want to be good partners to filmmakers – that really does pay off over time," he added. "We're really looking at this business on a global level."
The tremendous success of Joker will only increase Bron's attraction for studio partners. "We understand their business – we're a good partner for them," said Gilbert of Hollywood's warm embrace.
Future challenges
But the shifting landscape does pose challenges, noted Nagpal, even for a company that's been as successful recently as Bron. "I know we say that at the AFM every year, but this year it really is shifting more than ever… There are the streamers, and the studios are launching their own platforms and how is that going to change things?"
The days, for instance, when streamers were willing to be the last-stop shop for a film sale are over, said Nagpal. "Everyone wants to get involved earlier. They don't want it after you haven't been able to sell it to others. You have to make the right decision early because now there isn't always that second option or bailout."
Bron is also increasingly venturing into television (investments include the A24/HBO production Euphoria and upcoming series Shadowplay), building shows for the international market using the same model as independent film with pre-sales to key markets via local broadcasters, soft money and tax incentives.
"We can deficit finance shows and drive them into production quickly," said Gilbert. "We try to hold onto our content and hold onto our rights as long as we can because we want to position our projects and we want to be able to partner with the best companies in whatever market that may be."