EXCLUSIVE: Company to launch Christian Volckman's English-language thriller The Room set to star Olga Kurylenko and show first images for Jorge Michel Grau's 7:19 AM.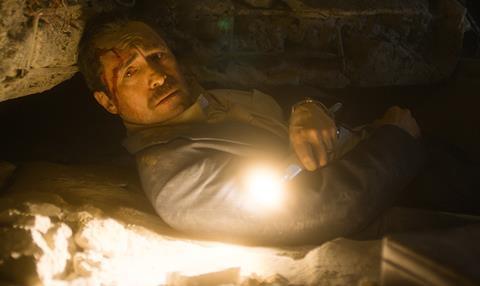 Elle Driver has taken world rights on Christian Volckman's English-language, fantasy thriller The Room, about a couple who discover a secret chamber in their old house which has the power to materialise anything they want.
Olga Kurylenko (Quantum Of Solace) is set to co-star as one-half of the couple who discover the room in their old upstate New Hampshire house. Entranced, they dream up increasingly lavish requests. When they ask for a child the game turns sinister.
It is in pre-production and the role of the husband is currently being cast.
The feature marks a live action debut for French animation director and artist Volckman who won best film at the Annecy International Animation Film in 2006 for the dystopian sci-fi drama Renaissance, about a world controlled by a single company.
In between times, Volckman had been focusing on painting as well as working on live performances and installations with THEFLOW art collective.
Likening the chamber to an 'Aladdin's lamp", Volckman sayid: "The room is like a mirror, revealing the hidden aspirations and most shameful desires of each of the protagonists."
The film is a French-Canadian co-production between Paris-based Les Films du Poisson (The Gatekeepers) and Martin Katz's Toronto-based Prospero Pictures, whose credits include David Cronenberg's Map To The Stars, A Dangerous Method and Cosmopolis. Wild Bunch Distribution has picked up French rights.
Iraqi and Greek dramas
The company has also just boarded Iraqi director Koutaiba Al-Janabi's long-gestated Daoud's Winter exploring the human impact of the Iraq-Iran War of the 1980s.
Set in 1988, it follows Daoud, a young man from Baghdad, who is assigned the task of processing the bodies of dead soldiers at the morgue. Part of his work involves categorising the fallen combatants as either "martyrs" or "traitors", which are thrown in a mass grave and burned.
One day, Daoud discovers a man clinging to life in the mass of bodies assigned to the traitor pit. The man is carrying a farewell letter to his daughter. On the spur of the moment, Daoud decides to desert and embark on a dangerous journey to get the man home.
The film – which is based on Al-Janabi's own experiences — is being co-produced by Paris-based Alcatraz Films (Blue Is The Warmest Colour) and OAK Motion Pictures, the Aberdeen and Amsterdam-based production house of Charlotte Scott Wilson and Trent. It is due to go into production in November.
Other upcoming titles on Elle Driver's slate include Greek director Alexandros Avranas.social thriller Love Me Not.
Avranas – who belongs to the same generation of Greek directors as Yorgos Lanthimos and Athina Rachel Tsangari – first caught the world's attention with his stark tale of abuse Miss Violence, which won the Silver Lion at the Venice Film Festival, and has since shot US-set True Crimes, starring Jim Carrey.
He returns home for Love Me Not which is set against the backdrop of contemporary Athens and hinges on the impact of the ongoing immigrant crisis which has seen hundreds of thousands of people land on Greek shores.
The tale revolves around a couple who hire a young female migrant to be a surrogate mother, moving her into their luxury villa for the duration of the pregnancy. The mother and girl bond but one night when the husband is away on business his wife goes missing.
It is a co-production between Greek Faliro House (The Lobster, Miss Violence) and Les Films du Lendemain, which produced Diary Of A Chambermaid and Farewell, My Queen.
As reported last week, the company will also launch sales on all-female production Below Her Mouth, about a passionate, unexpected fling between two women that changes their lives forever.
Also at Cannes, Elle Driver will unveil first images of Jorge Michel Grau's 7:19 AM [pictured right], Harry Cleven's Angel, Audrey Dana's high-concept comedy If I Were… A Boy, about a woman who wakes up one day with a penis, and will also market screen Andrew Rossi's documentary The First Monday In May going behind the scenes of the creation of New York Metropolitan Art Museum's ambitious China Behind The Looking Glass exhibition.
The company is also selling Romanian Cristi Puiu's Palme d'Or contender Sieranevada revolving around a chaotic family reunion to mark the passing of its family patriarch.