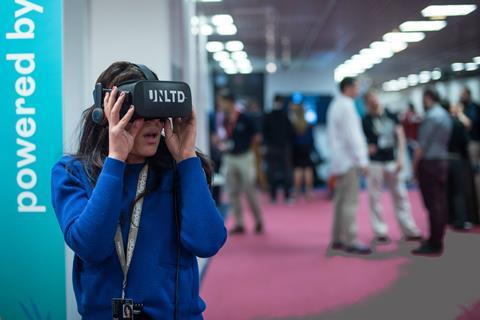 Cannes Marché du Film, which will run online from June 22-26 following the cancellation of its physical event, has revealed details on how it plans to continue its immersive Cannes XR programme.
Re-dubbed Cannes XR Virtual, the online iteration will see the market team up with the Museum of Other Realities (MOR), Tribeca Film Festival, VR funding platform Kaleidoscope, and burgeoning Chinese VR platform VeeR VR to take the programme online.
"After having prepared for a promising edition in Cannes, where for the first time we would have expanded the VR to the Palm Beach, we had to reinvent Cannes XR and find a way to put it online," said Marché du Film chief Jérôme Paillard.
MOR is a virtual art gallery showcasing immersive work from VR artists around the world. Under the Marché du Film initiative, the entire 2020 Cannes XR programme will be made available until July 3 via the MOR application on gaming platform Steam and VR headset support platforms Viveport and Oculus.
"Creating a virtual venue that can host numerous showcases, VR arcades, 360 cinemas and networking spaces where some of the finest global digital players can meet and interact is what we love to do," said MOR co-founder Robin Stethem.
Under the collaboration, MOR will also oversee a special Cannes XR Virtual 2D live video stream, featuring conferences, pitching sessions and project presentations. The feed will also be available on the Marché du Film online platform as well as Tribeca and Kaleidoscope's websites.
Continuing a long-time partnership with the Marché du Film, Tribeca will create a virtual showcase of XR projects curated from Tribeca Immersive's 2020 programming. The selection will world premiere a number of works that had been due to debut at Tribeca's 19th edition until it was postponed due to the Covid-19 pandemic.
"We're thrilled to be able to present selections from the 2020 Tribeca Virtual Arcade at Cannes XR," said Tribeca senior programmer, film and immersive, Loren Hammonds. "We are turning towards innovation as a solution in these uncertain times.
"While we continue to explore the future of physical exhibition, this is an exciting moment to share our immersive curation with an expanded global audience, and Cannes is the perfect partner to help us to accomplish this."
Immersive content funding platform Kaleidoscope will run the second edition of the Cannes XR development showcase that it launched in 2019 in partnership with the market last year.
A number of key professionals in the world of immersive content and entertainment have agreed to take part in the online iteration, which will comprise pitching sessions and one-on-one sessions.
Confirmed decision-makers include Google's head of immersive arts Todd Shaiman, Facebook head of media, ARVR experiences Colum Slevin, Microsoft mixed reality content and partnerships director Ishita Kapur, VeeR VR co-founder Jingshu Chen, RYOT/Verizon head of development Jake Sally and Sarah Vick, executive producer at Intel Studio.
The pitching sessions will be streamed live on Kaleidoscope's website as well as on the other official Cannes XR channels.
"When the Covid-19 crisis struck the market we knew we needed to react and help creators to stand on their feet again," " said Kaleidoscope CEO and co-founder René J. Pinnell. "We also offered to step in with our production expertise to make XR online gatherings attractive and socially relevant."
China's VeeR VR will curate a showcase of 360 content which will be shown during Cannes XR Virtual at MOR and on VeeR VR's own platform for five days.
It will be a competitive selection and the winner will be presented with a premium distribution package that includes a global marketing campaign as well as online and location-based distribution (LBE) including in VeeR's Zero Space sites in China for two weeks.
"With the development of 5G network in China, VR is growing faster than ever and there's great demand for premium VR content in Chinese market," said Veer VR cofounder Chen. "More investors start to show interests in cinematic VR content. Therefore, apart from the online Showcase, we also plan a LBE showcase in China. In doing this, we hope to connect selected projects with potential investors and collaborators."
Cannes XR Virtual will be accessible to industry professionals registered with the Marché du Film Online.