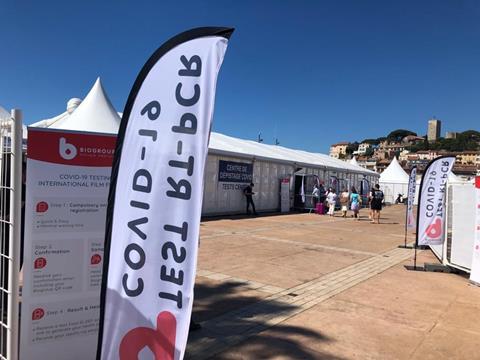 Cannes has denied reports that it has quietly introduced a delegate-wide health pass for fully vaccinated, non-EU attendees that removes the obligation to do a Covid-19 test every 48 hours.
Festival managing director François Desrousseaux said a handful of delegates hailing mainly from the US had been granted a special pass in the early days of the festival after the App which logs on-site Covid-19 test results failed to transmit the results to their phones.
"In the first days of the festival, some attendees, mainly from the US, were not receiving their results due to a bug in the App. For those people with a negative test done here in France, we were obliged to create a sort of 'mini badge'," said Desrousseaux, who oversees the festival's Covid-19 health plan.
"I discovered this afternoon there were some cases where these passes were given out to people who didn't really have the right to receive them. Anyone who is coming from the US or the UK is obliged to do a test every 48 hours. It's a mistake. We have to keep to these rules."
Non-EU attendees who were wrongly given the "mini pass" are now being asked to return them to the festival and to resume testing every 48 hours as per the health regulations for this year's edition.
A handful of non-EU participants have also reported to Screen that they have gained access to the Palais des Festival and Cannes market precinct by showing the QR code proving they are double vaccinated rather than proof of an on-site test. The festival said this was a mistake on the part of the entrance staff.
Under the festival's Covid-19 health regulations, all participants hailing from non-EU territories, even those classed as green under France's traffic light pandemic travel scheme, must do a test every 48 hours.
The Cannes MD also batted back rumours that a Covid-19 cluster had broken out at the festival. "We've been doing 2,000 to 4,000 tests a day and picking up two to five positive cases a day and zero on Friday (July 9)," he said.
The French government is due to hold an emergency meeting on Monday to discuss potential fresh restrictions following a sharp rise in Covid-19 cases across France over the last week. Desrousseaux said it was too early to say whether their decisions might impact the festival.