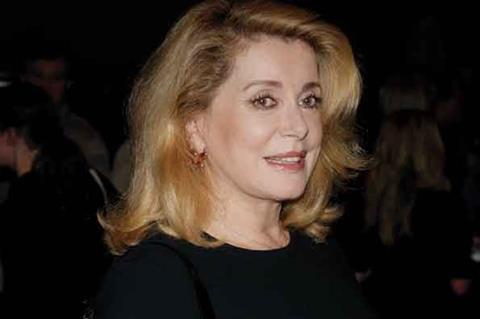 French actress Catherine Deneuve has written an open letter apologising to sexual assault victims who felt offended by an editorial she signed criticising the #MeToo campaign.
"I reach out to all the victims of these hateful acts who felt assaulted by the editorial in Le Monde. It is to them only that I offer my apologies," the La Belle Du Jour star wrote in a letter published on the website of French newspaper Liberation on Sunday.
But the actress stood by the thrust of last week's controversial tract in Le Monde week defending men's right "to hit on women" and blasting the #MeToo campaign and its French equivalent #balancetonporc as puritanical movements that threatened sexual freedom.
As the most high-profile signatory of the editorial signed by 100 women, Deneuve has been at the centre of the media storm and fierce debate it provoked in France and internationally.
"Nothing in the letter claims that harassment is a good thing otherwise I wouldn't have signed it," she wrote.
"I love freedom," the letter continued. "I don't like this characteristic in our age in which everyone thinks they have the right to judge, arbitrate and condemn. It's an age in which social media denunciations can bring about punishment, resignation and often internet lynching."
"An actor can be numerically erased from a film, the director of a great New York institution can be forced to resign for hands placed on buttocks thirty years ago without any type of trial," she added.
The latter comment appeared to be a reference to Kevin Spacey's removal from All In The Money In The World following sexual harassment allegations.
"Disagreement"
Deneuve did seek to distance herself, however, from some of the Le Monde petitioners who, she said, had twisted the original spirit of the text in media interviews after its publication.
"Yes, I signed this petition but it seems absolutely necessary to me today to underline my disagreement with the way in which some of the petitioners have unilaterally taken to the media, to mispresent the original spirit of this text."
Her comments appeared particularly directed at former porn star and radio presenter Brigitte Lahaie who said in a subsequent TV debate that some women "orgasm during a rape".
"To say on TV that one can orgasm during a rape is worse than spitting in the face of all those who have suffered this crime."
Deneuve's decision to sign the Le Monde editorial was greeted has been largely greeted with dismay and derision in France but there was also some support for the editorial's charges that the social media outing of sexual harassment had undertones of a "witch-hunt".
The actress has never described herself as a feminist despite signing a famous 1971 pro-abortion manifesto in which 343 prominent women declared they had had abortions which were illegal in France until 1975.
Response
Yesterday's letter prompted a mixed response in France where Deneuve is generally a much-loved national treasure, with some saying her apology did not go far enough and others admiring her decision to apologise but stand by her stance.
In a TV interview on Monday morning, prominent French feminist Raphaëlle Rémy-Leleu, a spokeswoman for Osez le féminisme!, said it "was good that Deneuve had at least recognised some of the excesses of the previous editorial."
But she added: "We can see again in Catherine Deneuve's discussion a misunderstanding of the feminist discourse, its objectives and the point of denunciation… all we're asking is for an end to the violence directed at women."
Deneuve looks set to be involved in the debate in France for some time to come.
In a comment piece over the weekend, Le Monde's editor Michel Guerrin suggested the fact the "free and unpredictable" actress had become the unwitting figurehead of the Le Monde editorial even though she did not write it directly was emblematic of the whole sexual harassment debate.
Deneuve, in her public persona and career – which embody the femme fatale, reluctant feminist and independent thinker – incarnated many of the issues at the heart of the sexual harassment debate, he wrote.