Captain America: Civil War tops again, while Song Of The Phoenix saw huge gains after begging for screens.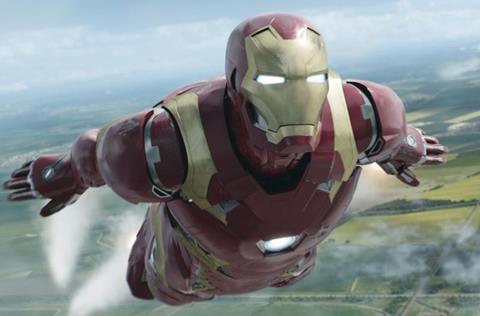 Captain America: Civil War retained the top spot at the Chinese box office in the week of May 9-15. The Marvel/Disney superhero sequel added $60.11m, bringing its total to $156.89m after 10 days. It edged out The Jungle Book to become the third highest grossing Disney film ever in China.
Edko Films' Finding Mr Right: Book Of Love remained in second place with $13.03m. With $111.52m after 17 days, it beat Zhao Wei's So Young and made director Xu Xiaolu the most commercially successful Chinese female director.
The third and fourth place went to two newcomers, both starring Deadpool's Ryan Reynolds. Criminal did better with $7.99m from its three-day opening weekend, which was higher than its North America debut last month, while Self/less opened with $4.09m from its first four days.
Song Of The Phoenix made a swift ascent to fifth place with $3.84m, pulling its total to $4.07m after ten days. It was a giant leap - given that the arthouse film was outside the weekly top 10 with its $0.24m three-day opening gross two weeks ago – which came after a controversial video went viral.
On Thursday, Fang Li was seen down on his knees, begging cinema managers to allocate more screens to the final film of Fourth Generation director Wu Tianming who passed away two years ago. Best known for his award-winning Old Well and King Of Masks, Wu has also nurtured directors such as Zhang Yimou and Chen Kaige.
Fang is a renowned producer with credits such as Summer Palace, Lost In Beijing and more recently The Continent. He has taken on distribution of Song Of The Phoenix but isn't a producer on the film.
Disney's The Jungle Book dropped to sixth with $2.76m and ended its month-long run on Saturday with a total of $151.14m. It is now Disney's fourth-highest grossing release in China, behind Zootopia, Avengers: Age Of Ultron and Captain America: Civil War.
Distance debuted at seventh with $1.28m from its first three days. Produced by Ilo Ilo director Anthony Chen, the omnibus is directed by Xin Yukun from China, Tan Shijie from Singapore and Thailand's Sivaroj Kongsakul, with Taiwan actor Chen Bolin playing three different roles.
It was followed by Phantom Of The Theater with $0.65m for $13.45m after 17 days; new local thriller Bloody House with $0.56m from its first three days; and MBA Partners with $0.46m for $12.40m after 17 days.
Captain America: Civil War is unlikely to score a hat-trick as Angry Birds will open on Friday (May 20). The Divergent Series: Allegiant, Brothers and Le Paon De Nuit will also roll out on the same day.