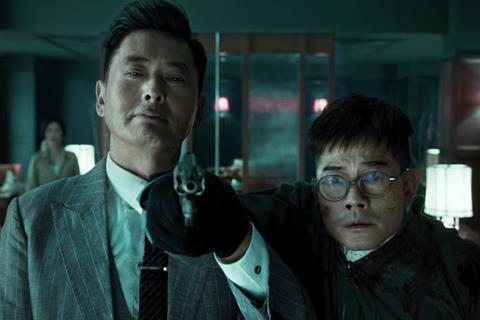 Chinese authorities have unveiled new rules to make it easier for Hong Kong companies to access the mainland market via official Hong Kong-China co-productions.
The mainland government has relaxed five of the restrictions currently in place for Hong Kong-China co-productions – including the number of Hong Kong actors in each production; the number of Hong Kong people working on each production; and the requirement that the story of the film is related to mainland China.
Other measures include waiving fees to set up Hong Kong-China co-productions and allowing Hong Kong films to apply for nominations in mainland film festivals. Hong Kong film companies will also be allowed to apply for incentives to distribute and promote mainland films and Hong Kong-China co-productions in Hong Kong, Macau and overseas.
While announcing the new rules, Hong Kong's chief executive Carrie Lam said mainland China's censorship rules would still apply. "Hong Kong is very proud of our freedom of expression, and we welcome movie makers to make the best use of that freedom of expression to do a diversity of movies. But if these movies have to be screened or made in another jurisdiction, then of course they have to follow the rules and regulations of that jurisdiction," she said.
Hong Kong's film industry was once one of the most prolific in the world, but slowed down in the 1990s, due to rising competition from Hollywood and other local-language film industries in the region.
It received a boost when mainland China's industry started to grow in the early 2000s, mostly through official co-productions, which are classed as local films by the Chinese government and enjoy a greater share of revenue and control over release dates than imported films.
However, co-productions also come with restrictions – before these new regulations, one third of the cast had to be mainland Chinese actors and the plot had to be related to mainland China. Other countries co-producing with China are still subject to these rules.
In 2018, the top five Hong Kong-China co-productions at the China box office were Dante Lam's Operation Red Sea, which grossed $576m, Raman Hui's Monster Hunt 2 ($356m), Felix Chong's Project Gutenberg ($183m), Soi Cheang's The Monkey King 3 ($114m) and David Lam's L Storm ($64m).
The Hong Kong government recently announced plans to pump an additional $127m (HK$1bn) into two schemes designed to support the local film industry - the Film Production Financing Scheme (FPFS) and the First Feature Film Initiative (FFFI).