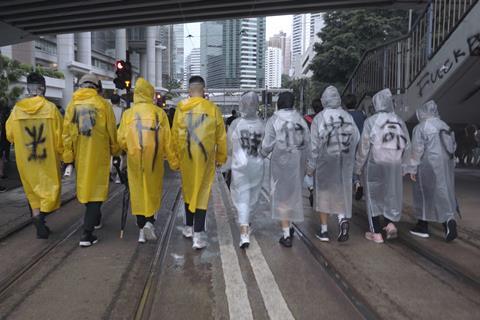 Kiwi Chow's Revolution Of Our Times, the controversial Hong Kong protests documentary that received a surprise premiere at Cannes last July, has recorded box office success in Taiwan – the first territory to grant a wide release to the film.
Opening on February 25 through VDirect International, the feature crossed $530,000 (NT$15m) on March 7 at the Taiwanese box office. For comparison, this year's Chinese New Year box office champion My Best Friend's Breakfast has grossed $2.4m (NT$68m) since January 28.
Revolution Of Our Times, which takes its title from a pro-democracy protest slogan, became the highest grossing non-Taiwanese Chinese-language documentary on the eighth day of its release.
It initially opened in 37 cinemas, considered a significant island-wide release for a documentary, and ranked third after Japanese animation Jujutsu Kaisen 0 and Hollywood action feature Uncharted. Due to its strong opening, a further six cinemas were added in its second weekend, which coincided with the release of The Batman.
The film, which won best documentary at Taiwan's Golden Horse Awards, chronicles the popular uprising in Hong Kong that started in mid-2019 and the government's suppression of the movement.
Taiwan's Ministry of Culture, government officials and influencers took to social media to spread word of mouth for the film. Shortly before its release, YouTube removed the film's official channel from its platform after receiving a large number of malicious reports but it was reinstated following an appeal.
The film's title comes from an ubiquitous eight-Chinese character slogan – "liberate Hong Kong, revolution of our times" – that was chanted widely during the 2019 demonstrations. The slogan has since been ruled as illegal by the Hong Kong High Court under the National Security Law, which came into effect in June 2020.
Given its sensitive nature, the film remains an anonymous collective work, with Chow identified as the director only, and is unlikely to receive an official screening in Hong Kong.
Following a series of privately-organised public screenings held in key cities in the US and Canada, and set to show at the UK's Hong Kong Film Festival on March 19, the film is set for further international screenings from April 1-10. These are being organised via a campaign, which invites individuals and organisations around the world to send screening requests to a dedicated email address associated with the film.
Chow told Screendaily that April 1 is a commemorative date for him. It was on that day, in 2016, when free community screenings of dystopian anthology Ten Years were held at 34 public locations around Hong Kong, after being forced to withdraw from cinemas. Chow directed the segment Self-Immolator and the anthology went on to win best film at the Hong Kong Film Awards.
More protestor-linked releases
A further two films which are equally unlikely to be released in Hong Kong due to the new National Security Law have also found screening opportunities in Taiwan: Clara Law's Drifting Petals and May You Stay Forever Young by Rex Ren and Lam Sam.
Drifting Petals touches on the Umbrella Movement, the democracy protests which took place earlier in 2014. It is now being screened in Taiwan as part of a retrospective, which pays tribute to Australia-based Hong Kong director Law and runs until March 17 at iconic Taipei arthouse cinema Spot.
Shot in Australia, Hong Kong and Macau, the feature is part memoir and part fiction and was self-funded on a modest budget with a five-member production crew including Law's long-time writer-producer partner Eddie Fong.
It premiered at Sydney Film Festival in November 2021 before winning the best director prize at the Golden Horse Awards, and received its European premiere at the virtual International Film Festival Rotterdam in January.
In addition, May You Stay Forever Young is set to receive a theatrical release in more than 20 Taiwanese cinemas on April 8 through local distributor Light Year Images.
The film centres on a group of protestors who race to find a young member of their group who has threatened to commit suicide. It won the Netpac prize at the Golden Horse Awards, where it was also nominated for best new director and best editing.