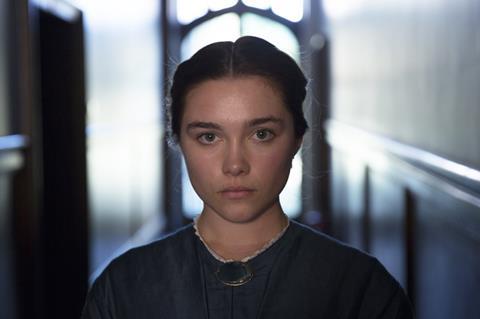 Creative England's low-budget feature initiative iFeatures, that has credits including the Bafta-nominated Lady Macbeth and 2017 TIFF premiere Apostasy, has chosen the 12 projects and teams to take part in its new-look lab format.
The new system will see 12 projects from first-time filmmakers taken through an entire cycle of development. This will include support for all aspects of the creative process, from inception to the stage when they are ready to be introduced to the market. This replaces the previous model of developing an initial 12 projects for early development, and then whittling the group down until three are greenlit for production with budgets of £350,000 ($396,000).
Over the next 12 months, the teams will take part in a series of workshops throughout the year focused on storytelling, directing and producing. Not all of the projects submitted have producers attached at this time, meaning several teams will be finalised during the process.
The BFI and BBC Films, which fund the scheme with support from Creative Skillset, have committed to producing at least three of the projects (budgets are not set in stone), but the goal is for more than that to be greenlit under the new guise. Creative England is analysing various sources of funding that could be harnessed.
There were 800 applications this year which is double the number of last year. The 12 selected projects and teams are:
HERE BEFORE
Sophie Vickers (producer); Stacey Gregg (writer-director) A taut and sophisticated psychological thriller set in Northern Ireland.
A VOICE AND ITS ECHO
Simon Cartwright (writer-diirector); Emilie Jouffroy (producer); Kamilla Hodol (producer) A woman rediscovers her love of music when she returns home to the Yorkshire Moors and uncovers what might be the entrance to another world.
I FEEL BLOOD
Dean Puckett (writer-director); Rebecca Wolff (producer) As madness grips an isolated community on Dartmoor, a hate preacher's daughter must save her secret lover from the clutches of the baying mob.
AVI
Jonathan Schey (writer-director); Rachelle Constant (producer) An eccentric Hassidic Jewish bachelor, struggling to be matched for marriage, gets tempted by life in the outside world.
NAN
Charlotte Regan (writer-director); Eoin O'Faolain (producer) A young hood desperately has to clear his debts by selling drugs, with only his aged and very grumpy nan to help.
MAN ACCIDENTALLY KILLS
Sean Dunn (writer-director); Alex Polunin (producer) In Scotland's central belt an anxious father stages a violent home invasion to frighten a visiting relative into cutting short their stay.
A DYING ANIMAL
Hardey Speight (writer-director) Two brothers join the army to escape banal and poverty-stricken lives, but as one brother excels as a cadet, the other self-destructs, threatening both their chances of redemption.
THE WHITE STORK
Meg Campbell (director); Marie-Elena Dyche (producer); Oliver Henderson (writer) A disillusioned mother forms an unlikely relationship with her daughter's classmate, and becomes convinced that the pair were switched at birth.
PEOPLE ARE STRANGE
Nasheed Qamar Faruqi (writer-director) The true story of how a skinhead became an au pair, livingwith a Pakistani family for a year.
BLUE JEAN
Georgia Oakley (writer-director); Helene Sifre (producer) In 1988, a closeted teacher is pushed to the brink when a new student threatens to expose her sexuality.
GIRL
Chika Anadu (director); Adura Onashile (writer); Rosie Crerar (producer); Ciara Barry (producer) The curious relationship between a girl and her mother is threatened by the hostile community around them.
ACROSS THE WATER
Andrea Harkin (Director); Suzanne Cowie (Writer) A terrified young woman must deal with her unwanted pregnancy, in a country where having an abortion can mean life in prison.
The selection process now adheres to the BFI's diversity targets and this year's crop are 58% female directors, 40% all-female teams, and 25% of the projects have BAME elements. It also now accepts projects from the whole of the UK, including Scotland and Northern Ireland. This year's projects are are set in locations including Belfast, Glasgow, Ilkely (Yorkshire), East London, Port Talbot (Wales), Canvey Island (Essex), Newcastle, Devon and the Lake District.
iFeatures is also launching a dedicated podcast, which will chronicle the process over the next year, the first episode of which goes online today.
"These talented filmmakers represent such distinct voices, and the resounding strength of female talent and teams in the running was particularly exciting to see," said Paul Ashton, head of film, Creative England
"iFeatures has exceeded all our expectations this year," said Eva Yates, commissioning executive at BBC Films.
Mary Burke, the BFI's senior development and production executive, celebrated that the new format puts a "bolder focus on development" and claimed that the chosen projects could "reinvigorate debut filmmaking".
"It's really encouraging to know there is more BAME talent, more women and people rooted in many different parts of the country coming through the iFeatures programme," added Gareth Unwin, head of film at Creative Skillset.