Makropol, the Danish creative studio known for its virtual reality work, is planning to open the world's first "XR cinema" in Copenhagen in 2019.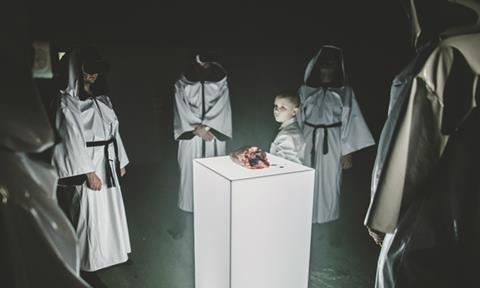 'XR' is a catch-all term for technologies such as virtual reality, augmented reality and mixed reality. Makropol's projects, including Doom Room, often mix virtual reality with film and live performance, and have to date been programmed at festivals including IDFA, International Film Festival Rotterdam and the UK's Sheffield Doc/Fest.
Speaking at a panel during Sarajevo Film Festival, Makropol founder Mads Damsbo unveiled plans for the venue.
The facility will be housed in Danish capital Copenhagen's Meatpacking district, where Makropol's studio is located. It will host one experience at a time, making money through ticketing revenue.
Asked by Screen how the business would differentiate from Dutch company Samhoud Media's Amsterdam-based VR Cinema, said to be the world's first dedicated VR venue, which shuttered its doors earlier this year after struggling to make money, Damsbo said that the venue will be more comparable to an immersive theatre experience (such as Punch Drunk or Secret Cinema) or an Escape Room.
As per Makropol's work to date, the experiences programmed will feature video, VR and live theatre elements.
The company's business plan currently sees it setting a €35 average ticket price, which it says is comparable to an Escape Room. It estimates that it could open 48 hours a week with a capacity of 960 people. If it sold 45% of those slots, 432 customers, they say it would return a revenue of €1m per year, profit of roughly €56,000.
Damsbo noted that this was not a huge figure, but said the company is plotting international expansion if the initial venue is successful, which would increase revenues and create a sustainable business. "If you can make it in a space of one million people or less (Copenhagen's population is roughly 600,000), you can do it in any city in the world," said Damsbo.
While the company is currently in the process of raising funding – it estimates it will need an initial €500,000 to get started, and that it could be up and running in eight months – Damsbo said that it already has early backing from organisations including the Danish Film Institute, Nordic Film Fund, and the Bikuben Foundation. He also said that Peter Albaek and Lars von Trier of Zentropa are supporters of the project.
While the first XR Cinema will be an experiment, Damsbo said that Makropol's ultimate aim is "to claim the next universal cinema format".