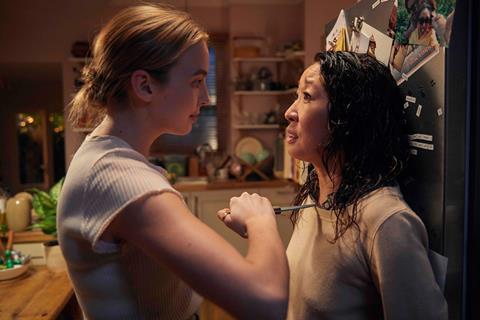 David Abraham has suggested that more UK content could be produced for the FAANGs (Facebook, Apple, Amazon, Netflix and Google) than the public service broadcasters (PSBs) in just three to five years' time.
Speaking at the RTS London Conference, the former Channel 4 chief executive outlined a scenario in the medium term when Amazon and Netflix have doubled their current spend with UK producers and Apple will be where Netflix currently is.
In the meantime, he said, the PSBs have a "three-to-five-year period where their relationship with audiences can evolve".
"iPlayer, ITV Hub and All4 were all around when Netflix was still posting DVDs in letterboxes."
Abraham, who recently founded production venture Wonderhood Studios, said the signs are positive, pointing to Channel 4's recent commercial deal with Sky.
"People need to make shows and market them in interesting ways; the notion that there are interesting and creative deals to be done is definitely there," he said.
"The PSBs have been very inventive in the past: iPlayer, ITV Hub and All4 were all around when Netflix was still posting DVDs in letterboxes."
On the same panel, All3Media chief executive Jane Turton said disruption was being led by "traditional broadcasters just as much as by the new players".
Turton pointed to BBC America/BBC3 co-pro Killing Eve, which was box-setted on iPlayer over the weekend at the same time as it was handed a linear TX, six months after it aired in the US.
"Who would have thought that the disrupter-in-chief would be the BBC?" she said. "It is busting its normal model completely. There is a whole heap of reasons why the BBC did that and it's not necessarily about the aggregate amount of money they will make."
Turton went on to say that All3 was already working up ideas for Jeffrey Katzenberg's $1bn New TV mobile short-form venture.
She said that although All3-owner Liberty Global is a New TV investor, the super-indie does not have a first-look deal for the SVoD, which will initially focus on short-form scripted.
"We would love to produce with New TV and scripted is a really interesting starting point," she said. "It's Jeffrey Katzenberg, so why wouldn't you?"
Entertainment One chief executive Darren Throop added: "This push speaks to consumer behaviour: smartphone screen use is exploding, so meeting this market with high-quality content needs to be done.
"Nobody has cracked short-form from a monetisation standpoint, but some children's short-form is picking up more than 1bn views per month."
Consolidation
Turton said it seems unlikely the FAANGs will attempt to buy big production players, since they have spent the past two years "aggressively pursuing the arms race for talent".
She added: "I don't think the likes of Netflix would need to buy a player like Endemol Shine, but then you never know. If it secures exclusivity over content, they may make that step."
Turton spoke of the positives of having Liberty Global's capital behind the super-indie since the 2014 acquisition, which allows it to take risks on development projects and make investments it may not have previously made.
"These things can be risky both reputationally and economically, but it's easier to do that if John Malone [Liberty Global owner] is sitting in Denver wishing you well and looking out for you."
Virgin Media chief executive Tom Mockridge added that "consolidation is good but can't be an end in itself" and that the government needs to be active in applying anti-trust laws when it comes to mergers and acquisitions.
This story first appeared on Screen's sister site Broadcast