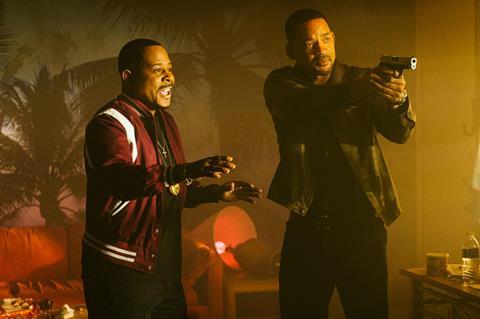 The Motion Picture Association (MPA) has released its 2020 Theme report, showing the dramatic impact of the Covid-19 pandemic on the global film, TV and streaming business.
The total value of the global theatrical and home/mobile entertainment market fell 18% to $80.8bn in 2020, says the report, with a 72% plunge in worldwide box office being partially offset by a 31% jump in digital home and mobile revenue.
The figures reflect what MPA chairman and CEO Charles Rivkin described in the report's introduction as the "grim reality" of the pandemic, which led to extended cinema closures around the world and most big films being pulled from release schedules.
But they also show, Rivkin wrote, that "during an otherwise punishing year for theatrical exhibition and our industry at large, home and curated entertainment boomed."
Overall, Rivkin added, "our industry once again proved to be as adaptable and innovative as it was resilient."
Global box office for all films released over the year was $12bn, the report details, compared to 2019's record tally of $42.3bn.
Box office in the US and Canada was $2.2bn, down 80% from 2019's $11.4bn. US/Canada cinema admissions were down 81% from 1.24bn to 0.24bn, with only 338 films being released compared to the 987 from 2019.
Of those films that were released, the top US/Canada box office performers (counting only their 2020 takes) were Bad Boys For Life, with $206.3m, 1917 with $158.1m, Sonic The Hedgehog with $149m, Jumanji: The Next Level with $128.2m and Star Wars: Episode IX - The Rise Of Skywalker with $124.5m.
International box office for 2020 was $9.8bn, said the report, 68% down from the $30.9bn recorded the year before. That represented 81% of the year's global box office total, compared to 73% in 2019.
Asia Pacific box office was down 66%, from $17.8bn to $6bn; EMEA's tally fell 68%, from $10.3bn to $3.3bn; and Latin America's total dived 82%, from $2.8bn to $0.5bn.
Though the report cautions that comparing box office in individual countries is difficult because cinema re-opening schedules varied from one market to another, the top markets outside the US/Canada, it says, were China with $3bn, Japan with $1.3bn, France with $0.5bn, South Korea with $0.4bn and the UK, also with $0.4bn.
China's tally saw it surpass the US/Canada take for the first time, though even China was down 68% from 2019.
The global home/mobile entertainment market – comprising content released digitally and on disc - reached $68.8bn in 2020, says the report, up 23% from 2019.
The digital portion of that total (electronic sell through, VOD and subscription streaming) was up 31% to $61.8bn and the physical portion (DVD and Blu-ray sales and rentals) was down 20% to $7bn.
In the US, the digital home market was up 33% to $26.5bn, and the physical market was down 26% to $3.5bn.
Internationally, digital was up 30% to $35.3bn, and physical was down 12% to $3.5bn.
The report notes that for the first time ever subscriptions to online video services passed the one billion mark in 2020, growing 26% to reach 1.1bn globally.
In his comments on the report, Rivkin said that with most MPA members - the major Hollywood studios together with Netflix - now operating their own streaming services "the Covid-19 crisis has accelerated and intensified changes that were already occurring across the industry."
And in a statement released with the report the MPA chairman concluded: "Theatrical and home entertainment remain two essential parts of this dynamic and iconic industry, and I am confident that movie theatres will experience a great comeback in the months ahead."