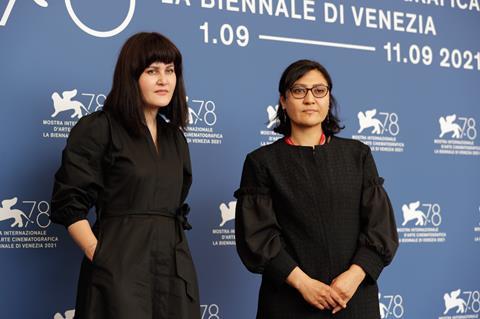 Afghan directors Sahraa Karimi and Sahra Mani painted a bleak picture for their country's fragile filmmaking community in the wake of the Taliban's seizure of power in Afghanistan in August at a press conference at Venice Film Festival on Saturday (September 4).
"It's the 21st century, a group of people are coming to your country from nowhere and telling you that music is forbidden, cinema is forbidden, artistic work is forbidden, female artists are just something put in the corner and isolated. We don't want it. My generation don't want it," said Karimi.
The filmmaker, who was also the head of the Afghan Film Organisation, has strong links with the festival, having premiered her debut film Hava, Maryam, Ayesha in Horizons in 2019. She had been in production on her second feature when Taliban fighters swept into the Afghan capital Kabul on August 15.
"At the same time, I and my team were working on pre-production for another film. There were two very important historical documentaries in post-production and we had an independent documentary film in Docs-in-Progress at the Cannes Film Festival for the first time in the history of Afghan film," she said.
"There were 11 short films, fiction, adaptations of our Afghan stories and literature, in production. We were also preparing for the second edition of our national film awards after the first year in 2020. We had just launched the first experimental short film festival and we were trying to have an MoU [memorandum of understanding] with Canadian film academy and other national academies."
Other recent initiatives had included three international Afghan film showcases, a programme of workshops for young filmmakers in the provinces and an essential new insurance scheme for cinema equipment which was on the verge of being finalised.
"Suddenly that all stopped… within a few hours. We have one of the richest archives which is now under the control of the Taliban. Many filmmakers, especially independent filmmakers who over the last five years have had a big cinematic place in film festivals, were just forced to leave. In a few hours, imagine, you didn't have time to collect your personal things," continued Karimi
"Imagine, Sunday 15th August you start your normal day. As a female, I put on my makeup, my dress and then a few hours later, you make the most difficult decision of your life, to stay or leave. You see in front of your eyes, the collapse of your dreams, the collapse of your country."
Karimi fled Afghanistan with her family at the end of August, with the help of the Ukrainian and Turkish authorities, and is now living in exile in the Ukrainian capital Kiev.
"There are thousands of promising filmmakers and talents in Afghanistan, who couldn't make it out and they're hiding. They've deleted their social media accounts. They're silent. I ask for help, for support, not financial support, intellectual support, something that gives us hope that we don't feel that we are going to die… we deserve to live in peace, in a calm society and we deserve to fulfil our dreams."
Mani, who joined Karimi on stage, is in Venice this year with her feature documentary project Kabul Melody which is being presented in the Venice Gap-Financing Market (VGFM). It follows the work of the Afghanistan National Institute Of Music, which broke taboos and courted danger by teaching both young girls and boys how to play music.
It is her second feature documentary after the 2018 film A Thousand Girls Like Me about a woman who fought for justice after she was sexually abused by her father for years.
Mani reported that the school in Kabul Melody has been occupied by the Taliban and the instruments destroyed.
She recounted how filmmaking in Afghanistan had been difficult, even prior to the arrival of the Taliban, but that she had stayed on in the belief that she could be part of building the country.
"We had one of the most corrupt governments in the world. We didn't have electricity or internet for weeks…. besides that, we would have two or three suicide attacks a day everywhere – hospitals, wedding parties, universities, in the street," she said.
"Everyone morning I went out, I would look at my stuff and think is the last moment that I'm looking at my things. I kept one hard drive with my family, friends and producers outside of Afghanistan in case I got killed in a bombing so that someone should have a copy of my material."
Mani continued: "It was not easy to work in Afghanistan but we stayed. We were optimistic. We thought, 'We're going to work on it, we're going to build this country and have a better country in the future. We are going to have cinema, artists and musicians, writers and things will be OK. This collapse overnight… we've lost everything. It's a pity in our century that this has happened to us."
The Afghan filmmakers were joined on stage by Rotterdam International Film Festival director Vanja Kaludjercic, International Documentary Festival Amsterdam (IDFA) director Orwa Nyrabia, and European Film Academy president Mike Downey and CEO and director Matthijs Wouter Knol (EFA) in their capacity as co-founders of the International Coalition for Filmmakers at Risk (ICFR).
They launched the ICFR in 2020 after lobbying to get Ukrainian filmmaker Oleg Sentsov freed from Russian custody, with the goal of consolidating the international film community's efforts to help filmmakers facing political persecution for their work. Its actions range from raising public awareness about a filmmaker's plight to working behind the scenes to get them freed.
"The ICFR has had two major disasters thrown at it in its first year of existence: Myanmar, which we shouldn't forget, and now Afghanistan… Our main raison d'etre was to help individuals. We were supposed to be bailing out lifeboats, not the Titanic," said Downey.
IDFA head and Syrian producer and filmmaker Nyrabia, who is himself living in exile, said the priorities were to ensure that endangered Afghan filmmakers could make it out of the country and then could carry on making films.
He also called on film professionals to lobby their governments over the inevitable talks that will eventually take place with the Taliban as they seek a place in the international community.
"The election year in many European countries is causing so much stagnation and so many governments to postpone the decision of renegotiating with the Taliban. No matter how terrible that is, there is one reality we all see… there are channels between governments and the Taliban… Our fellow filmmakers, artists and journalists, who are still there, are an important card on that negotiation table."