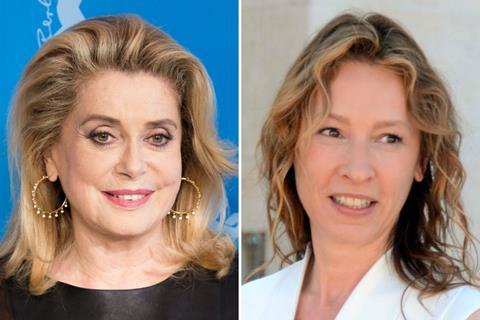 Paris-based Elle Driver has boarded world sales on French director Cédric Kahn's upcoming family comedy-drama Happy Birthday, reuniting Catherine Deneuve and Emmanuelle Bercot for the third time on a feature film production.
Deneuve co-stars as Andréa, a wealthy matriarch celebrating her birthday in her luxury villa in the South of France, surrounded by her close family, opposite Bercot as her estranged daughter Claire, who turns up out of the blue midway through the party after a three-year absence.
As well as directing, Kahn will also appear on screen in the role of older brother Vincent, who is attending the celebrations with his wife and two sons. Vincent Macaigne also features in the cast as younger brother Romain, who turns up with his new fiancée and a camera to capture the day.
At first, Claire's family warmly welcome her back into the fold, greeting her like a returning heroine but the atmosphere is tense and it is not long before her presence brings chaos to the previously harmonious day.
"This is the first time I'm making a family drama, which is almost a cinematic genre of its own like rom-coms or gangster films," says Kahn in his notes for the film.
"The idea is to make a comic film on a tragic subject while maintaining a balance between the two. There is intimacy because each character contains a personal drama but there is also the comic, taking over in the group scenes."
The production reunites Kahn with producer Sylvie Pialat who is producing the film under her Paris-based Les Films du Worso banner.
The pair has just recently worked together on Kahn's The Prayer, which world premiered in competition in Berlin, winning its young star Antony Bajon the Silver Bear for best actor for his performance as a drug addict who joins a remote mountain community in a bid to break his addiction through prayer.
Long-time Kahn distributors Le Pacte have acquired French rights to Happy Birthday.
The production is scheduled to shoot this July.
It will be the third time Deneuve and Bercot work together on a feature but the first time they co-star on the big screen.
Actress-filmmaker Bercot has directed Deneuve twice, firstly in the 2013 feel-good road gritty On My Way and then in the gritty social drama Standing Tall, which opened the Cannes Film Festival in 2014.
Bercot will be walking the red carpet at Cannes again this year as a co-star of Eva Husson's Palme d'Or contender Girls Of The Sun, about female Kurdish fighters preparing to take on extremists who have invaded their town.
Bercot plays war correspondent Mathilde, who is embedded with female fighters as they plan their offensive, opposite Golshifteh Farahani as a former lawyer who has taken on the position of commander-in-chief of the all-female fighting division.
Elle Driver is also handling international sales on that title too.