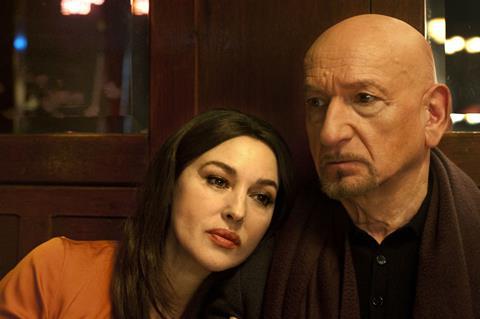 Eran Riklis, whose credits include The Syrian Bride (2004), Lemon Tree (2008), and The Human Resources Manager (2010), which won best film and best director at the Israeli Film Academy awards, is currently in a Tel Aviv edit suite, deep into post-production on his latest feature, Spider In The Web. fThe film is an espionage thriller starring Ben Kingsley as an ageing Mossad agent, with a supporting cast featuring Monica Bellucci and Itay Tiran.
Riklis wrapped the project in mid-May after filming in Belgium and the Netherlands and is now two months into a four-month editing process. The script by writers Gidon Maron and Emmanuel Naccache "struck something very deep" in the veteran Israeli filmmakers, who empathised with the plight of a world-weary man struggling to adapt to the complexity of the modern world. "It's not that I'm 100 years old but you age both biologically and with your art," he says. "Even though I feel 40 years younger than I am, you can feel time chasing you. I can identify with that."
The director heaps praise on Oscar-winner Kingsley's lead performance, saying it reminds him of another renowned ageing secret agent: Alec Guinness' performance as George Smiley in the 1979 BBC TV adaptation of John Le Carre's Tinker Tailor Solider Spy. "That was very much in my mind," says Riklis. "Smiley was the definition on an ageing British spy and this is the same with a Mossad agent."
Spider In The Web was produced by Riklis' production venture UTR, which is a collaboration with Moshe Edery of United King Films and Michael Sharfshtein of Topia Communications. UK-based Film Constellation is handling sales. The project is an unorthodox co-production between Israel, Belgium (Cine Cri de Coeur), the Netherlands (NL Films) and Portugal (Dragocom), an arrangement that Riklis says was "not a classic set-up" and took time to get off the ground.
The director is still able to attract some funding from Israel (the Rabinovich Foundation put money into Spider In The Web) but Riklis is concerned about the future of the country's industry. "This is a period of blossoming for Israeli film, it has been for the last 10 to15 years," says Riklis. "We're making better films and we have become more noticed, there's hardly a festival in the world now where there isn't at least one Israeli film being presented.
"[Filmmakers] bring the complexity of Israel to the screen," he adds. "We don't serve anyone, these are not films on behalf of the government or anyone else. It doesn't matter if we are controversial and touch sensitive issues, we are the best ambassadors Israel could possibly have and we reach the widest possible audience because of the nature of movies."
Riklis is firm in his opinion on the Culture Ministry's proposed amendments to its Film Law, which is on hold for now but would mean greater government influence over the films made in Israel. "It degrades us, full stop," he says. "The [proposed changes] mistrust us and doubt us as filmmakers, it thinks we are motivated by politics. That alienates all of us. There's an impending struggle here and ­it's not going to be easy, there's a huge gap between our thoughts and intentions and the government's. If we are unified [as an industry], I think we will prevail."
Riklis is working on a variety of new projects. His thriller Shelter, also about a Mossad agent (Neta Riskin stars with Golshifteh Farahani), is playing now in cinemas in France prior to its release in Germany and the US in autumn. Films in the pipeline include a US-set project, a trilogy based on his own life, and Reading Lolita In Tehran, an adaptation of Azar Nafisi's memoir about returning to her native Iran during the revolution of 1979-81. Riklis has optioned the book and is producing the project with his Spider team of Moshe and Leon Edery and Michael Sharfshtein.