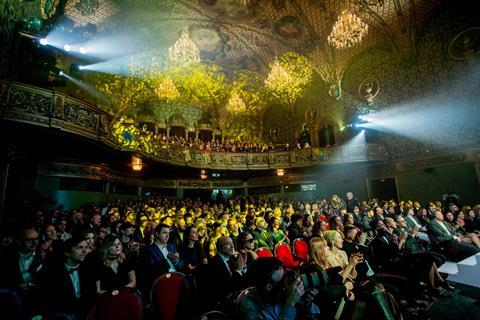 A group of 65 European film festivals have sounded the alarm over a unilateral decision by the European Union's MEDIA programme to abolish individual funding for their events in favour of network funding.
Under the move, festivals will be required to become a member of a consortium of festivals that will then apply for funding as a bloc and mete out what it secures between them.
Previously festivals made individual funding applications to MEDIA, the film and audiovisual industries-focused strand of the EU's Creative Europe programme.
"We were informed that the MEDIA programme had already decided to abolish individual funding for film festivals and replace it with network funding," the group said in an open statement.
"Abolishing funding for the content-related work of individual festivals at the European level jeopardises the diversity of European offerings for audiences and the range of distribution of European films and filmmakers."
Signatories include Film Festival Ghent programme director Wim De Witte, outgoing CPH: DOX CEO Tine Fischer, DOK Leipzig artistic director Christophe Terhechte, Tallinn Black Nights festival director Tinna Lokk and Les Arcs Film Festival general manager Guillaume Calop.
Many festivals already belong to associative consortiums but fear this change to funding applications will impact the quantity and diversity of film festivals being supported across the EU bloc, as well as the works and talents they showcase
"We fear a numerical decrease and also reduction of the diversity of European films as well as a levelling of artistic standards and cultural differences through an abolition of individual support. The European idea should be expressed through diversity, not through a lowest common denominator."
The change comes as the MEDIA programme embarks on a new five-year cycle, running 2021 to 2027, for which it has been allocated a €1.4b ($1.69b) budget. The finer details of how the funds will be spent are currently being decided.
In 2020, MEDIA awarded €3.67m ($4.4m) to European film festivals in total, across two separate calls covering the first and second half of the year. The money is earmarked for subtitling, festival screening fees and guest travel and accommodation.
The open statement was sent first to MEDIA head Lucía Recalde Langarica as well Mariya Gabriel, EU Commissioner for Innovation, Research, Culture, Education and Youth and Thierry Breton, EU commissioner for Internal markets and has now been posted on a dedicated Facebook page branded "European Film Festivals United".
The festivals emphasised their growing role in disseminating European films and cinema knowledge as well as supporting European talent and culture.
"Compared to dwindling cinema audiences, film festivals are seeing a steady increase in demand. In the effort to make theatrical exploitation of European films more attractive, film festivals play a central role," they wrote. "They promote viewing habits for European films in the wider audiovisual market and are development platforms for young talent."
The group noted that they had been lobbying for individual funding to remain in place for two years in the face of a move by Media towards network funding.
"No justification has been put forward for the claim why the goals of the funding program could be better achieved through networks." the festivals added. "On the contrary, it is clear and we are also told unofficially that the switch to network funding has no substantive reasons, but is merely intended to reduce administrative effort."