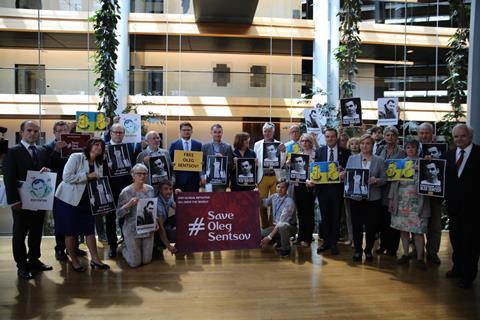 The European Parliament has urged Russia to release Ukrainian filmmaker Oleg Sentsov alongside some 70 other Ukrainian citizens being detained by the country.
The parliamentary institution passed a resolution at a plenary meeting in Strasbourg on June 14. It demanded "the Russian authorities to release Oleg Sentsov immediately and unconditionally, as well as all other illegally detained Ukrainian citizens in Russia and on the Crimean Peninsula."
It comes amid growing concerns for Sentsov, who has now been on hunger strike for more than a month in protest at his imprisonment and that of his compatriots.
Sentsov has indicated he will not the stop the strike unless all the Ukrainian prisoners are released.
The director was originally arrested in his home in the Crimea by Russian security forces in May 2014, shortly after Russia annexed the region from Ukraine. He was then sentenced by a military court in 2015 to a 20-year prison sentence on terrorism charges he strongly refutes.
The passing of the European Parliament resolution coincided with the kick-off of the World Cup football tournament in Moscow on Thursday which has prompted an intensification in calls for Russia to release Sentsov and the other Ukrainian prisoners.
The document also mentioned a number of other political prisoners in Russian detention and noted their numbers had risen significantly in recent years.
Irish-UK producer and deputy chair of the European Film Academy Mike Downey, who has been at the forefront of a campaign to keep Sentsov's plight in the spotlight said the resolution was a "significant" move.
"By expressing its solidarity with the Ukrainian filmmaker Oleg Sentsov, the European Parliament chose the opening day of the FIFA World cup to express their anger and concern at human rights violations in Russia," he said. "This marks a significant show of support from the European Parliament as Oleg hit day 32 of his hunger strike 'to the death'."
In a separate development, Liudmyla Denisova, Ukrainian parliament commissioner for human rights, said on Friday she had been denied access to the director on a pre-agreed visit to the penal colony in the Arctic port city of Labytnangi where he is being held.
In a Facebook post, Denisova said, "Today I arrived in the morning at penal colony No. 8, where Oleg Sentsov is being held. I met with the head of the colony and the head of the penitentiary administration. The latter turned down my request, saying that I cannot meet with Oleg Sentsov under any circumstances… When I asked him about Sentsov's current condition, he said he would not provide any information and asked us to leave the territory of the colony. Now we are at the colony's gate."