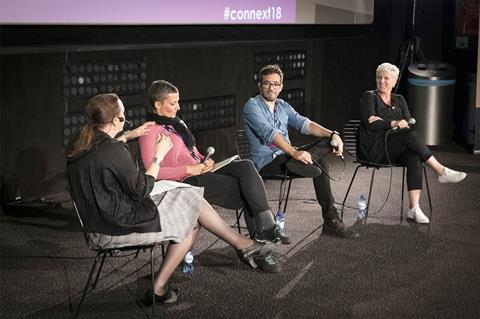 At the third edition of Flanders Image's industry event Connext in Ghent, author Johanna Koljonen presented her annual future-facing study the Nostradamus report with updated findings.
The 2018 study was first presented at Goteborg's Nordic Film Market in February and, in Ghent, was followed by a panel exploring its key themes.
One of the survey's key findings, for which Koljonen interviewed a range of industry experts across film and TV including Danish Film Institute CEO Claus Ladegaard and Mediavision CEO Marie Nilsson, was the danger for feature film to become irrelevant for younger audiences.
"We cannot force an art form to stay relevant to the audience," she said, while also pointing out some positives – that people of any age respond to cinematic storytelling and that research has shown that teenage audiences often seek out the cinema experience as a temporary escape from the social media that can rule their lives.
Other points made in the presentation referred to creators telling stories that reflected the lives of today's youth, who also can't be marketed to in traditional ways – they need to be "influenced"; the danger that public funding could disappear overnight with governments under pressure and less interested in supporting culture; and the extreme challenges to territoriality and theatrical windowing.
Koljonen noted that the revenue from Apple's app store alone is projected to surpass the global film industry this year, and that these tech giants can't be outspent. Even if EU regulations slow their march, it is they who will ultimately dictate the future.
Tech giants threaten diversity
Following Koljonen's presentation, the three panellists – The Match Factory head of acquisitions Zsuzsi Bankuti, 20th Century Fox Belgium managing director Maud Van de Velde and local filmmaker Hans Van Nuffel (Oxygen) – agreed that the film industry's mindset towards the threats and challenges facing it was too often outdated, and that a new generation of progressive thinkers would be needed to shift thinking away from only seeking to preserve current structures.
"Tech conglomerates and their monopolisation of culture is a huge threat to cultural diversity and I think the fragmented way that we're dealing with that right now is causing most of our problems," said Van Nuffel. "There's a conservative, protectionist vibe that is hanging around, and that way of thinking is not progress."
"Territorial thinking is a thing of the past," he continued. "Most tech conglomerates operate within the boundaries and the laws within those territories because they have to but in the end they make global decisions, whereas Europe is so used to the idea of entrenchment. That creates little islands and those islands are hard to connect."
The recent EU media directive that would force OTT platforms like Netflix to support local content production was also discussed. Van Nuffel argued the directive could ironically lead to greater cultural hegemony from the streaming giants, who are already investing significant sums in this area [link].
"Even now, when they are forced to contribute, they can do it by investing a percentage in the local market or by creating a show worth the same percentage but it's their idea so they can keep it and sell it back again," said Van Nuffel. "It will just make them bigger in the end."
Facing the future
Asked to anticipate how their roles might change in the next five years, Van de Velde said keeping up with the rapid changes and adapting to them along the way had instilled a pressing urgency for all sectors to band together to tackle these challenges.
"We need to work together with exhibition and all the other stakeholders because we need each other," she said. "That's going to be the biggest change and I'm an optimist that it will happen."
While Van Nuffel believed that territorial windows could disappear in as little as five years, Bankuti and Van de Velde weren't convinced any revolution would occur that quickly.
"There are studies that say that people are going to come to the cinema less, and there are studies that say the complete opposite so it's difficult to say anything for certain," said Van de Velde. "And it's not just a question of changing the windows, it's changing the whole industry and everything that goes with it so five years from now – I don't think we're there yet. The theatrical window will be shorter but it won't be gone. But we need to address it now, we need to sit around the table."
"We can't not do anything, and to do something is mainly how we are educating our kids," added Bankuti. "How many people are taking their kids regularly to the cinema? If they don't have this kind of pleasure that we had when we were kids to go to the cinema, then it will disappear."
"Community and curation will be a big guiding principle there," said Van Nuffel. "In this world of overabundance, those community-driven platforms where people who have the taste can express themselves and gain a following – those offer very interesting ways to target audiences and create new ways of interacting."