Line-up includes projects from Geetu Mohandas, Mostofa S. Farooki and Haobam Paban Kumar, along with the event's first ever animation projects.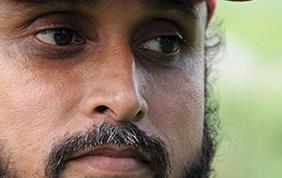 India's National Film Development Corp (NFDC) has unveiled the 18 projects selected for the Co-production Market at this year's Film Bazaar, including new works from Geetu Mohandas, Mostofa S. Farooki [pictured] and Haobam Paban Kumar.
Mohandas, whose first feature Liar's Dice screened at Sundance and won six international awards, is bringing her new project Insha'allah to Film Bazaar, with Jar Pictures attached as producer. Farooki, whose credits as director include Television and Ant Story, is producing fellow Bangladeshi director Abu Shahed Emon's A Foolish Man.
Manipuri filmmaker Haobam Paban Kumar, whose debut Lady Of The Lake premieres in New Currents at Busan this week, is again working with Oli Pictures on Joseph's Son.
The Film Bazaar line-up also includes the event's first two animation projects –Soumitra Ranade's Kabuliwala, to be produced by Sunil Doshi's Handmade Films, and Ravi Shankar's Punyakoti, which will be a rare Sanskrit-language film.
The diverse line-up also includes Persian-language The Cineaste, directed by Afghan filmmaker Aboozar Amini, and produced by Chengdu-born, Amsterdam-based
producer Jia Zhao.
This year's Co-Production Market will kick off with Open Pitch, during which selected filmmakers will pitch their projects to a curated audience of national and international producers, financiers and sales agents.
Film Bazaar, which celebrates its tenth anniversary this year, also features a Screenwriters Lab, Childrens Screenwriters Lab, Producers Lab, Viewing Room and Industry Screenings. The event will be held November 20-24 in Goa, India.
FILM BAZAAR 2016 CO-PRODUCTION PROJECTS:
Apodartho (A Foolish Man) (Bangladesh)
Dir: Abu Shahed Emon
Prod: Mostafa Sarwar Farooki
Language: Bengali
Bhosle (India)
Director: Devashish Makhija
Producer: Piiyush Singh, Muvizz.com
Language: Hindi
Calorie (Canada, India)
Director: Eisha Marjara
Producer: Joe Balass, Compass Productions
Language: English
Dastaan-e-Awaargi (India)
Director: Ankit Kothari
Producer: Priya Sreedharan, Open Air Films
Language: Hindi
Ink (India)
Director: Pratim Gupta
Producer: Firdausul Hasan, Friends Communication
Language: Bengali, Hindi
Insha'allah (India)
Director: Geetu Mohandas
Producers: Ajay G. Rai & Alan McAlex, JAR Pictures
Language: Malayalam, Hindi
Jhyalincha (Season of Dragonflies) (Nepal)
Director: Abinash Bikram Shah
Producer: Ram Krishna Pokharel, Icefall Productions
Language: Nepali
JosephKi Macha (Joseph's Son) (India)
Director: Haobam Paban Kumar
Producer: Oli Pictures
Language: Manipuri
Kabuliwala (Man From Kabul) (India) (Animation)
Director: Soumitra Ranade
Producer: Sunil Doshi, Handmade Films
Language: Hindi
Nonajoler Kabbo (The Salt In Our Waters) (Bangladesh)
Director: Rezwan Shahriar Sumit
Producer: Gigi Dement, Laboratory NYC
Language: Bengali
Punyakoti (India) (Animation)
Director: Ravi Shankar
Producer: Sindhu SK, Puppetica Media
Language: Sanskrit
Ram Ji Ka Ghoda (The Dragonfly) (India)
Director: Bishnu Dev Halder
Producer: Courtyard Entertainment
Language: Hindi
The Biryani Seller (India)
Directors: Rajdeep Paul & Sarmishtha Maiti
Producer: Mahesh Mathai, Highlight Films
Language: Bengali
The Cineaste (China, Netherlands)
Director: Aboozar Amini
Producer: Jia Zhao, Silk Road Film Salon
Language: Persian
The Sunshine (India)
Director: Leena Manimekalai
Producer: SR Prabhu, Dream Warrior Pictures
Language: Tamil
The Umesh Chronicles (India, Sweden)
Director: Pooja Kaul
Producer: Charlotte Most, Mostfilm AB
Language: English, Hindi
Tribhanga (Three Curve Bent) (India)
Director: Renuka Shahane
Producer: Padachinnha Production
Language: English, Marathi
Wapsi (The Return) (India)
Director: Asad Hussain
Producer: Abbas Khan, Paandan Pictures
Language: Hindi