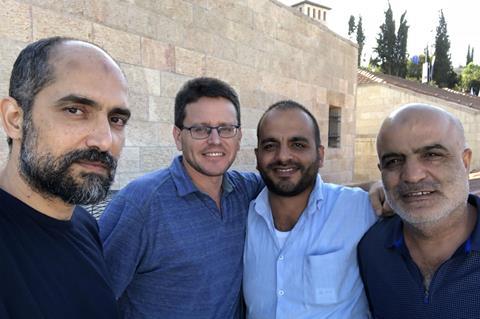 The first ever feature directed by Bedouin filmmakers - and giving a rare insight into Israel's Bedouin community - was among the 10 projects unveiled at Jerusalem Film Festival's Pitch Point industry event over the weekend.
Entitled Eed, the drama will be set and shot in the Bedouin city of Rahat in southern Israel, a city never before shown on the big screen in feature film format.
It revolves around the titular character of Eed, a 21-year-old aspiring theatre director whose artistic ambitions and desires for personal freedom are compromised when his family forces him into an arranged marriage.
The young artist is also coming to terms with being sexually abused as a child by a man who is still part of his community. A friendship over Skype with a French actress living in Paris with whom he discusses his art helps him remain true to his dreams.
"It's a story about a modern man seeking his freedom who comes to the realisation that he has to find freedom within the boundaries of the society within which he lives," said Abu Latif, who will co-direct the film alongside Yousef Abo Madegem. "He has to deal with a new wife, the man who raped him, his boss, his parents and his dreams."
"The character of Eed is an assembly of many men and boys in Bedouin society," added Abo Madegem. "Eed's inner conflicts are haunting many men in Bedouin society. The film will reveal a side of Bedouin society never explored on the big screen before. We could be condemned for this film and revealing the secrets of a very closed society."
Abu Latif and Abo Madegem met while studying cinema at Sapir College, the main higher education institution in the Southern Israeli region of the Negev.
They belong to Israel's 190,000-strong Bedouin population, which lived a semi-nomadic lifestyle, moving freely across the entire region, before the creation of Israel in 1948.
As Israel's marks the 70th anniversary of its birth, the Bedouins are still struggling to find its place in the country and are one of its poorest minorities.
The population's future has been further clouded this month by Israel's passing of its controversial 'nation-state' law, declaring only Jewish people have the right to self-determination in the country.
Abo Madegem and Abu Latif say the film will explore the external and internal pressures and cross-currents within Bedouin society as it attempts to reconcile its traditions with modern life.
"Over the last 20 years, Bedouin society has undergone a process of modernisation as part of Israel's push to get them to abandon their tents and nomadic lifestyle which has seen them rehoused in specially built cities. This modernisation process is in full swing but if you visit Rahat you will see that beside every house people have built a tent," said Abu Latif. "The people may have stopped wandering the desert but their traditions continue within stone houses."
Israeli producer and filmmaker Shlomi Elkabetz has recently boarded the project under his Tel Aviv-based Deux Beaux Garcons Films banner alongside Elad Peleg and Haggai Arad of southern Israeli company Daroma Productions.
It is his first fiction feature production since Maysaloun Hamoud's award-winning drama In Between, revolving around young Palestinian women living in Tel Aviv.
Elkabetz connected to the project – initially developed by Peleg and Arad - through his long-time collaborator Yuval Aharoni (Heritage, Gett: The Trial Of Viviane Amsalem) who is writing the screenplay in collaboration with the directors.
"Every time I produce a film I say it will be the last time but when you meet a project like this, in which being a producer gives you an opportunity to be an anthropologist, an explorer, a visionary, to be invited to places you're not invited on a regular basis, it's impossible to turn down," said Elkabetz.
"I felt it happened to me with the trilogy my sister and I did," referring to the three films he made with his late sister Ronit Elkabetz [To Take A Wife, Shiva and Gett: The Trial Of Viviane Amsalem) as well as my work Testimony and the film I did with Maysaloun and I hope it will happen again on this film because I really feel that I've never been in these places before and Yousef and Kaid are the ones to me there."