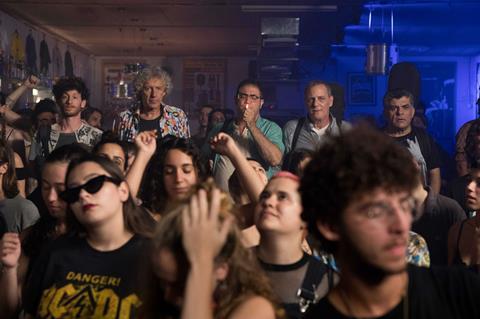 Tel Aviv-based companies Green Productions and Sushi and Bourekas have released a first look image of Boaz Armoni's upcoming musical comedy The Electrifiers about a group of washed-up pop musicians trying to stage a comeback.
Zvika Nathan, who also takes producer and co-writer credits, stars alongside Uri Hochman and Sharon Alexander as the members of a revival band alongside a host of real-life 1980s Israeli pop icons.
Israeli TV stars Tal Friedman and Eli Yatzpan make an appearance as the band's agents and nemesis.
The 36-day shoot will spend another two-and-a-half weeks in and around Tel Aviv before heading to New York and Kiev for additional scenes in September.
The film marks a change of genre for Armoni, who is best known for his cult horror picture Freak Out about a homesick soldier posted to a remote base in northern Israel, which was also produced by Green Productions.
The Electrifiers was initiated by producer Nathan who approached Green Productions with the idea, which then proposed Armoni as a potential director. Nathan co-wrote the script alongside actor Sarel Piterman and stand-up comedian Shir Reuven.
"I really like horror and comedy. Freak Out was a comic horror movie in a way and now I'm doing a full-blown comedy movie. The other connection is that, like Freak Out, the protagonists are also losers, outsiders, I'm into these sorts of characters," Armoni told Screen.
"I loved these characters who are committed to their art and music and want to remain relevant as they age but there's a gap between their ambitions and reality which is funny but kind of sad at the same time."
The filmmaker plans to return to horror with this next film Fingertips, which he has been developing at the European Genre Forum over the past year.
Nathan is producing under his Sushi and Bourekas Films banner alongside Gal Greenspan and Roi Kurland Green Productions, alongside associate producers Maya Fischer and Adi Bar Yossef.
The production also marks a change in genre for Green Productions, best known internationally for films like Freak Out, Youth and Scaffolding.
"We wanted to try a comedy," says Green Production's Fischer.
Other upcoming productions on the company's slate include The Quarters, a portmanteau film exploring various aspects of Jerusalem co-directed by Todd Solondz, Mohsen Makhmalbaf, Arsinée Khanjian and Anna Muyleart. The company is gearing up to shoot the first segment this November.
It is also in the middle of financing Maya Kenig's black comedy Milk revolving around the subject of breastfeeding and developing a new TV series with Matan Yair, the director of the award-winning drama Scaffolding.