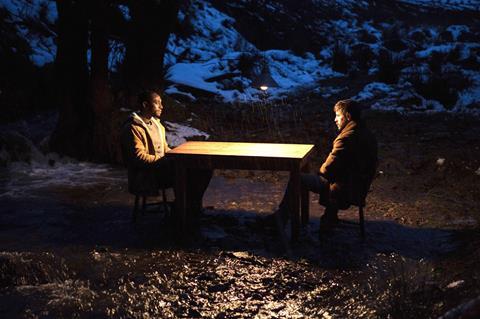 Limbo, a UK sci-fi thriller short starring Emun Elliott (Prometheus) and Ivanno Jeremiah (Humans), has finished shooting at WB Studios Leavesden after also shooting on location in North Wales. Screen can reveal the first look at the film (see above).
The project is produced by Daniel-Konrad Cooper of Rather Good Films, whose previous credits include Burn Burn Burn. Annelie Simmons also produced, her feature film debut.
Written and directed by duo Rob Silva and Andrew Morris, whose credits include the shorts Abducted and 7x5, the film follows a happily married man whose world is torn apart by the abduction of his daughter. When a stranger appears on his doorstep and tells him that his daughter was never actually taken, the unfolding truth proves more terrifying than he could have imagined.
The group are aiming for the 28min Limbo to be a forerunner to a full feature project based on the same concept that could go into production in 2018.
Also in the cast are Screen Star Of Tomorrow Rosie Day (Outlander), Louise Brealey (Sherlock) and Gethin Anthony (Aquarius).
Further crew include cinematographer Hamish Anderson, gaffer Sam Meyer, and production designer Sophia Stocco. VFX work is being done by Compost Creative.
Producer Daniel-Konrad commented: "We have had a very tricky shoot handling the challenges of filming in a remote Welsh location, further complicated but a foot of snow, icy conditions and subsequent muddy slush.
"However the horrendous weather has done wonders for the film's surreal visual aesthetic. The cast and crew have literally dragged themselves through the snow and mud to help us deliver fantastic production values that no amount of planning could have possibly legislated for."