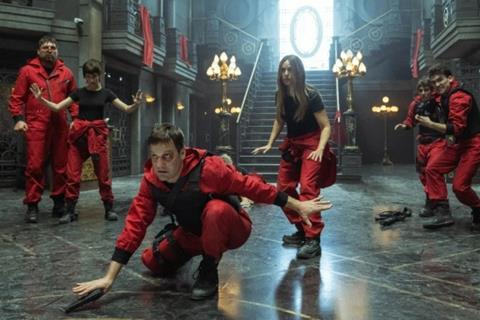 Producers of Spanish and Latin American (SPLATAM) content should focus on originality rather than emulation if they want to take advantage of a "revolution" in global demand for their films and series. That was the message from a trio of Latinx executives on a 'Demystifying the SPLATAM market' panel at the AFM on Wednesday.
Panellist Frida Torresblanco, CEO of New York-based Braven Films, said the growing acceptance of Spanish-language content, spurred by the pandemic and declining resistance to subtitles, has been "a total revolution. We have to be grateful to [hit Spanish-language streaming series] Money Heist [La Casa De Papel] for opening the window of opportunity with Netflix".
To make the most of the opportunity, suggested Torresblanco, producers should focus on fresh ideas: "Let's do high-quality shows that can compete internationally," she said. "It could be a local story from a tiny little place in the middle of nowhere in Guatemala or Nicaragua, that doesn't matter – it's about the originality of how you tell the story."
Georgina Gonzalez, director of development for the SPLATAM team at US-based Gaumont Television, said her company is focusing first on catering to audiences in Latin America, "just because platforms have that appetite right now, they're asking us for things that primarily work locally and then travel. Usually [the series] do travel, and for us that's the cherry on top".
Developing fast enough to meet the new demand is a challenge for local industries, Gonzalez added: "They haven't had this volume of production before so it's very new to them. The talent pool is growing but sometimes it's not enough to cover the demands of the market.
The upside of the challenge, she said, is that "a lot of people are going to get to grow in these conditions - to make movies and TV shows for their local markets that can also travel, and maybe then to make things for other markets".
Sonia Gambaro, VP of television at 3Pas Studios, gave the example of her company's comedy series for Apple TV+, Acapulco, which mixes Spanish and English dialogue. The show, she said, was "a big experiment. We had to pay close attention to both the scripts for the dubbing and the subtitles. We had to get involved in all parts of that because traditionally the network just hands it off to their localisation teams and those teams have developed a sort of neutral Spanish that's a little stilted and broad. We had to have one of the show creators work with the localisation team".
Asked by moderator Liliana Espinoza, projects director at the National Association of Latino Independent Producers (NALIP), to advise Latinx film- and TV-makers wanting to break into the US market, panellists reiterated the need for originality.
"Share your own voice and don't try to copy things that work in other places," said Torresblanco. "Carlos Montera, one of the creators of Elite [another Spanish-language Netflix hit], was telling me that he never imagined his show would be seen in so many countries. He just wanted to do something original and fresh."
"Don't try to chase a trend, echoed Gambaro. "Be the trendsetter. Find a project that really moves you, that only you can tell in a very special, provocative way. And figure out what's the noisy, higher concept to it, because that will resonate more with an American sensibility."