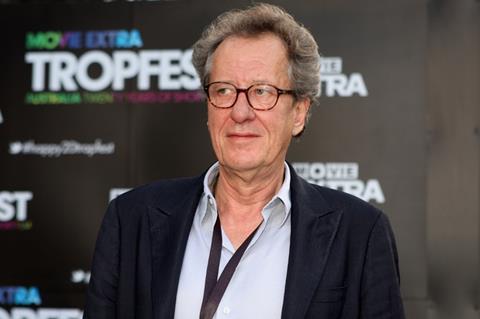 Oscar and BAFTA-winning actor Geoffrey Rush has stepped down as president of the Australian Academy of Cinema and Television Arts (AACTA) on the eve of the annual awards ceremony.
The move follows the actor strongly denying an allegation of "inappropriate behaviour" made against him dating from his time in a 2015 Sydney Theatre Company production.
Both the allegation and Rush's vehement denial generated significant media coverage in Australia. On Saturday, Rush stated his intention to resign as AACTA president.
"Certain recent media reports have made untenable allegations concerning my standing in the entertainment community. It is unreasonable that my professional colleagues should be somehow associated with such allegations," Rush said in a statement.
"In the circumstances, I have decided to step aside in my ambassadorial role as president of AACTA effective immediately and until these issues have been resolved. This decision has not been made lightly. However, in the current climate of innuendo and unjustifiable reporting, I believe the decision to make a clean break to clear the air is the best for all concerned."
The AACTA issued a statement in response, saying it "accepts and respects" Rush's decision to "voluntarily step aside as President of AACTA".
"We have been deeply concerned about the situation and support a course of action that both respects Geoffrey's rights to the presumption of innocence and due process, but also acknowledges good corporate governance in these circumstances," AACTA said in a statement. "We will not be making any further comment at this time."
On Wednesday, the Sydney Theatre Company revealed to a Sydney newspaper that it had received a complaint about Rush's behaviour during a production of King Lear, but that the alleged complainant had asked for the matter to be kept private. Rush, via his lawyer, rejected any suggestion of impropriety, and claimed that STC had not raised the matter with him: "There has been no provision of any details, circumstances, allegations or events that can be meaningfully responded to," the statement said.
"It is a great disappointment to Mr Rush the STC has chosen to smear his name and unjustifiably damage his reputation in this way. Not to afford a person their right to know what has been alleged against them, let alone not inform them of it but release such information to the public is both a denial of natural justice and is not how our society operates," the statement continued.
Representatives did not respond to Screen's question about whether Rush would attend the annual awards, which are due to take place in Sydney on Wednesday.