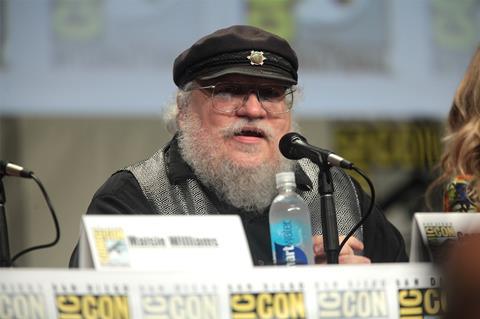 The Irish Film Board has backed a major new international production from the creator of Game of Thrones in its latest round of funding decisions.
Filming is due to get underway this spring on Nightflyers, the first production based out of Limerick's newly built Troy Studios. The forthcoming production was granted €850,000 by the IFB - the single biggest award in its latest round of funding decisions. New features by Cathy Brady, Brian Kirk and Paddy Breathnach are also being supported.
Sets are currently being constructed in Troy's vast studio space based in Ireland's mid-west, with filming due to begin in the coming weeks. Originally commissioned as a pilot, Syfy confirmed it was going to series after creator George RR Martin revealed the plans on his blog. Martin and Jeff Buhler are credited as co-writers, with Mike Cahill (Another Earth) credited to direct, according to the IFB.
The 10-episode series will centre on the efforts of a tightly knit crew, including several maverick scientists and a powerful telepath, to make contact with alien life. To do so they set off on their ship, The Nightflyer, to the outer edges of the solar system. But their journey becomes a battle for survival following a series of violent events. Cast including Gretchen Mol, Eoin Macken, David Ajala and Brian F. O'Byrne have already been announced.
Other funding decisions from the IFB include €600,000 for Element Pictures' forthcoming project, Rosie, written by Roddy Doyle (The Commitments) and with Paddy Breathnach (Viva) directing. In animation production, it awarded €700,000 to animated feature sequel Oops 2 - The Adventure Continues, with Moetion Films producing.
Provisional offers of commitment were given to Tailored Films' The Winter Lake, a gothic, coming-of-age story about a young boy who discovers a dark secret at a lake, setting in motion a series of unsettling events. The script is written by David Turpin (The Lodgers) with Phil Sheerin directing.
Offers have also been made to Samson Films' Wildfire, a drama centred on two sisters, written and directed by Cathy Brady (Can't Cope, Won't Cope), and Parallel Film Productions' Borderland, directed by Brian Kirk. In fiction co-production, €150,000 was awarded to The Castle, written and directed by Lina Luzyte, with Samson Films producing.
Following his success with Song Of Granite, Pat Collins will turn to documentary with Folkland, inspired by the writings and ideas of celebrated American folklorist Henry Glassie, which was awarded €150,000 by the IFB.
The Alexander Complex, directed by Neasa Ní Chianáin (School Life), was also awarded €150,000, with Soilsiú Films producing.
In project development funding, €42,500 was granted to Aisling Walsh's (Maudie) forthcoming project, The Ballroom, with Parallel Films producing. Element Pictures' project with Mamma Mia! director Phyllida Lloyd, called Owned, remains in development and was allocated funding of €16,000, with Clare Dunne attached to write the script.
I Found My Tribe, an adaptation of Ruth Fitzmaurice's best-selling memoir about deep-sea swimming and her late husband Simon Fitzmaurice's (My Name is Emily) motor neurone disease, was awarded €20,500, with Element Pictures producing.