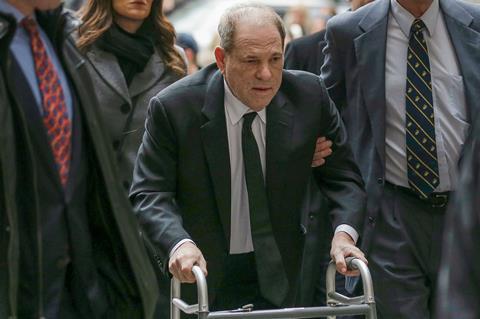 Harvey Weinstein's former production assistant Miriam Haley, one of the two accusers directly related to charges in the ongoing criminal trial in Manhattan, broke down as she testified in court on Monday (27) that the former Hollywood mogul sexually assaulted her in summer 2006.
Haley, 42, described how she first met Weinstein in 2004 but it was not until Cannes Film Festival 2006 when she asked for and was given a job as a production assistant on TV show Project Runway.
Later that summer she claimed Weinstein orally sexually assaulted her in a child's room in his New York apartment, despite her initial rejections. She considered going to the police but felt it would not amount to anything because he had too much power.
Two weeks later, in what she described as a bid to regain power, Haley met Weinstein in a hotel in the Tribeca district where she says he forced himself on her and they had intercourse.
The accuser said she tried to put the experience out of her mind and continued to work with Weinstein and pitch him ideas. Asked by prosecutor Meghan Hast whether she was attracted to Weinstein romantically or sexually, Haley said she was not.
In cross-examination defence attorney Damon Cheronis brought up a 2008 email from Haley signed "lots of love" in which she wrote how it had been great to see Weinstein in Cannes that year.
Weinstein is charged with five counts of sexual offences including rape and sexual assault against Miriam Haley in 2006 and Jessica Mann in 2013. He faces up to life in prison if found guilty. He has denied any non-consensual sex.