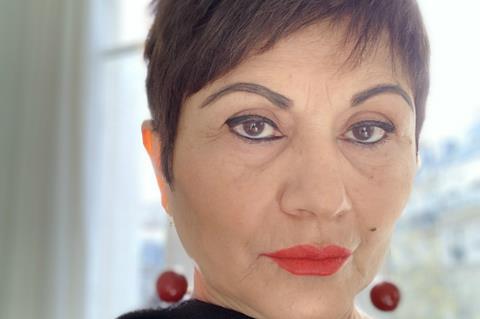 In a sign of the increasingly challenging environment for independent arthouse cinema, sales supremo Hengameh Panahi is rethinking how she operates her historic film company Celluloid Dreams.
The company sent out a letter to key contacts at the beginning of the year announcing it was changing the way it did business.
This has entailed reducing the team, putting acquisitions on hold and not setting up a sales office at the EFM, although Panahi emphasises with characteristic firmness that she is "not closing, downsizing or putting on hold" her company.
"We're buying and selling very selectively," Panahi told Screen. "Together with vice-president Charlotte Mickie, we made a decision to talk exclusively to clients that are ready to buy while we seek out strategic partnerships, and look for propositions that are truly special and the strongest in each genre."
"We intend to be very active with in-house development and production, but only for movies that can stand out. The access to top-level films is through producing original content or focusing on local productions in key markets, just as the streamers do."
The company also continues to sell and promote its upcoming films Swallows Of Kabul, Babyteeth and Death Of Ladies Man. Panahi is at Berlin actively taking meetings with distributors, platforms and producers on these titles and her plans for a new model.
Panahi added that there are partnerships and high-profile projects in the works but that she does not want to rush into anything right now. "The market has changed dramatically and will continue do so. We must be thoughtful about our upcoming decisions – now is an opportunity to breathe and to dedicate our minds to new solutions," she said.
Panahi said one of the key challenges for the industry was how to build audiences in an era where viewing habits, especially among younger generations, were changing rapidly.
"Building audience connects to the big issue of marketing which needs to be rethought throughout the chain," she said. "The change in viewer behaviour requires a new approach to traditional advertising, especially for the younger audience. We need to get closer to the tech companies and view technology as a new tool to promote our films, build an audience and interact with it."
Panahi highlighted the fact that she was at the forefront of exploring digital distribution long before Netflix had even launched its streaming service, through her partnership with Efe Cakarel to launch The Auteurs, one of the world's first independent cinema digital platforms. The Auteurs was later renamed MUBI by Cakarel, who remains its CEO.
"I was on this in 2006. I went from AFM to Palo Alto to meet with the tech starters to launch an OTT for the independents. Efe and I partnered to start The Auteurs which became MUBI, prior to Netflix going digital," she said.
"I was too early, as Netflix told me later, but I was right: digital is the biggest revolution of all time. The next and even bigger revolution is Artificial Intelligence which has started already and will be hugely impactful."
In spite of the challenges, Panahi said she found it an exciting time. "We must acknowledge these changes and learn to use digital contexts, tools and skills. It's a pivotal moment in our industry. I love reinvention and this is the time," she said.
"One thing that won't change: throughout my process, my guiding principle is to follow and remain loyal to the producers and directors I find talented. Celluloid Dreams is the Directors' Label. That mandate remains steadfast."