Regional funding body celebrates 14 films at the festival this year.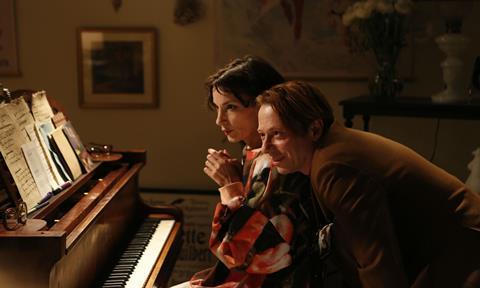 French politician and president of the Regional Council of the Ile de France Valérie Pécresse arrives in Cannes today as part of her drive to make the Paris region Europe's premier audiovisual pole and shooting destination.
She will be coming in to celebrate 14 Cannes titles supported by the region's funds this year, including Palme d'Or contenders Redoubtable, BPM (Beats Per Minute) and Rodin as well as Un Certain Regard opening film Barbara [pictured].
The region increased its funding for cinema and audiovisual production by 20% this year to an annual €20m.
"As well as ring-fencing 25% of the funding for auteur films, we've also created new funding strands aimed at medium-budget films around the €6m mark, big budget pictures as well as support for TV series and web-series," explained Pécresse ahead of her visit.
"We want to become the first region in Europe in terms of welcoming film shoots and supporting audiovisual production. We're currently the second biggest region in Europe in terms of actually putting money into production."
Pécresse said there were a number of reasons behind the region's decision to get behind the film and TV sector.
As well as the cultural and economic impact, Pécresse hopes productions shot in the region will help repair the damage done to its image by a series of terrorist attacks over the past two years which have affected visitor numbers.
"A romantic comedy or a thriller like M:I 6 - Mission Impossible, which is shooting in Paris at the moment, can play a big role in attracting visitors," said Pécresse.
Pécresse also leads a state-backed mission to woo international businesses to relocate from London to Paris once Brexit comes into effect. She suggested the region's film and TV industry's may benefit.
"It's not something we're seeing yet but of course it's a possibility," she said.