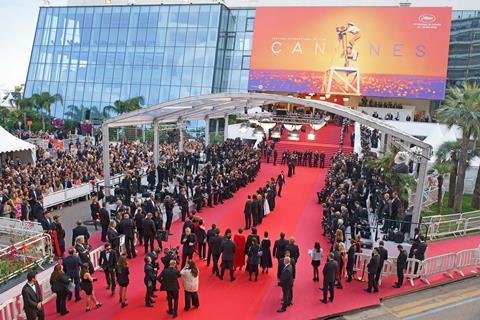 International industry hopes are pinned on the Cannes Film Festival taking place physically in 2021 after last year's Covid-19 cancellation but the major questions on everyone's lips are whether it can maintain its traditional May dates, whether it will move to a June or July slot and when a final decision will be made.
With much of Europe still under some sort of lockdown, expectations that restrictions could get even stricter in some territories and a slow roll-out of France's vaccination programme, the festival's existing dates of May 11-21 are looking increasingly unlikely.
Canvassed by Screen last week during the Unifrance's online Rendez-Vous With French Cinema, French sales agents, a major force at the Cannes Film Festival and its Marché du Film in terms of representing films in Official Selection and the parallel sections, expressed doubts that May dates were still tenable given the current state of events.
"I doubt the festival will be able to take place in May," said Alice Lesort, head of international sales at Les Films du Losange.
A spokesperson for the festival said the dates were still under review, with Cannes general delegate Thierry Frémaux and the rest of its board preferring to monitor the trajectory of the pandemic at the start of the year before making a decision.
In the event that the festival did have to change course, the spokesperson said it would focus on new dates between "end-June to end-July". Pushing the festival into August was no longer being countenanced as a viable option.
Screen has heard via other sources that a hybrid edition running June 27 to July 10 was one of the preferred alternative options discussed at a board meeting in early January.
Olivier Albou at Other Angle agreed the May dates seem like a tall order: "We'll just have to wait and see and adapt to the situation. I would be surprised if it takes place in May or even in its normal form in June… but we really need a physical market to keep our business and relationships going."
These sentiments were echoed by Laure Parleani, Agathe Valentin and Bérénice Vincent, the co-founding partners at Totem Films.
"Given it's the most important festival in the world in terms of business, we really hope Cannes will take place. If it doesn't, that would be catastrophic for the whole industry. It would mean that the world health situation had not improved which in turn would mean that culture hasn't been able to restart again," they said.
Le Pacte head of sales Camille Neel suggested, however, that a final decision could take some time in coming.
"They will do all they can to ensure that Cannes takes place whether it is in May, June or July – I don't think it will be after that. I think initially they're going to try to keep the May dates and then will make a decision at the last minute like last year," he said. "I don't dare predict anything on the dates as it's impossible to understand what is possible. There are so many factors to take into account, like whether later dates would clash with the local tourist industry, or whether professionals will be prepared to travel."
Most emphasised that an early decision would help but added they understood the complexity of the situation for the festival.
"At an organisational level, this uncertainty is very complicated to manage for everyone. A late decision would threaten all the efforts we put into our work so a decision as early as possible is key but at the same time, we're conscious of the complexity of this decision," said the Totem team.
"When you run a company – and the film business is no exception – the earlier you have information to make decisions, the better off you are," said Nicolas Brigaud-Robert, managing partner at Playtime. "We do hope that Cannes will happen and we strongly believe it will. Even if in the end it is not the same as a "normal" Cannes, a true competition with a Palme d'Or will surely bolster both the mood and the market."
Covid situation
As of January 10, France was the third most impacted country in Europe in terms of total Covid-19 cases with 2.7m recorded cases in total, behind Russia (3.4m) and the UK (3m), and ahead of Italy (2.2m), Spain (2.1m) and Germany (1.9m), according to data collated by statistics company Statista. There are fears that more virulent strains of the virus first identified in the UK and South Africa at the end of last year are beginning to circulate more widely in France.
In addition, the faltering start to France's Covid-19 vaccination programme combined with resistance from parts of the population to being inoculated could also have a bearing on when and whether the festival goes ahead.
As of January 19, the number of people who received the first dose of a Covid-19 vaccination in France stood at 585,664, compared to four million in the UK and 1.2 million in Germany. Cannes, in the meantime, has converted the Palais des Festivals into a major vaccination hub.
Against this backdrop, France is under a partial lockdown with people encouraged to work from home, a national 6pm curfew and public spaces such as cinemas, theatres and museums shut alongside non-essential shops, cafes and restaurants, at least until mid-February. Schools, however, remain open.
Hopes
In spite of the challenges of the uncertainty, everyone emphasised they could get behind Cannes whatever and whenever the final decision was made.
"If a late decision allows us to all re-meet, we'll do what it takes to adapt," said Alexis Cassanet, head of international sales and distribution at Gaumont. "I think Cannes will do the maximum it can to happen in the best way possible. Virtual events can fill a gap but they'll never replace human contact when it comes to transmitting the vision of the directors and auteurs we support."