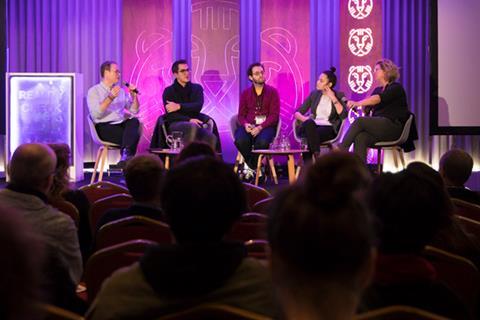 The European film market is an increasingly challenging environment due to a surplus of content, but is the disruption caused by deep-pocketed SVoD companies such as Netflix and Amazon helping or hindering the industry?
That question regularly entered discussion during the first day of Reality Check, International Film Festival Rotterdam's new conference exploring the transforming landscape of film distribution.
It's not news that a surplus of film content is flooding the European market, but the industry continues to be challenged by the sheer number of releases. In France, up to 700 films were released in cinemas in 2017. The number in the UK was close to 900.
"The problem is the volume of films that are being programmed. Does every film belong in the cinema?" asked Bobby Allen, senior vice president of content at arthouse steaming service MUBI, who was hosting a panel on the necessity of curation. His SVoD service curates a selection of 30 arthouse films every month for its subscriber base, with each release staying on the platform for 30 days – essentially a new film a day.
He asserted that special interest models, such as MUBI's curated arthouse approach or IFFR's festival-based service IFFR Unleashed - which is launching fully at the festival this week - were a way to offer appropriate platforms for quality arthouse content. But can services such as the deep-pocketed Netflix and Amazon co-exist in the marketplace agreeably with their more indie competitors?
David Grumbach, chairman of French distributor and sales agent Bac Films, said that a big money deal with Netflix could be short-termism and a more traditional approach could pay off in the long term.
He used the example of his company's relationship with director Paolo Virzì to illustrate the point. Grumbach pointed out that Bac could have sold Virzì's 2013 feature Human Capital to Netflix, but opted instead to do a series of deals with local distributors in various territories, many of which found success with the title. In turn, those distributors, as well as the exhibitors who had success with the film, were then receptive to Virzi's next two features - the bigger budgeted Like Crazy and The Leisure Seeker - and as such his company were able to secure bigger deals on those titles. Grumbach commented that they would never have had such sales success with Like Crazy and The Leisure Seeker if Human Capital had been solely on Netflix.
Grumbach also pointed to another Bac sales title, Léa Mysius's feature debut Ava, which premiered in the Critics' Week strand of the 2017 Cannes Film Festival. The film has performed disappointingly in a sales sense, securing only a handful of deals, but had travelled to festivals around the world, which he said has "established the reputation of the filmmaker", and that he was confident that her future projects would perform better. That journey would not have been possible if he had done a rights deal with an SVoD service. Bobby Allen chimed in to note that the title, which played on MUBI in December, had performed "extraordinarily" on the platform, becoming the most viewed film in the streaming service's history, showcasing that Ava continues to have a life.
Algorithm issues
Allen said that the algorithmic approach to content taken by SVoD companies, rather than a more curated approach, had "distorted" the film industry and that the way platforms hoovered up so much content worldwide was driving up prices.
"They buy loads, put it out there and see what works," he continued. "Algorithms flatten out taste and you end with the most mainstream, accessible content rising to the top."
"Netflix is controlling so much taste," warned filmmaker Dan Schoenbrun. "It's very scary the idea that an algorithm can tell you what the best film is. There's no discussion of what traditional curation means – enriching culture, challenging people, giving people a sense of their place in the world."
Schoenbrun referenced the recently released Netflix original Bright, which was widely derided by critics but celebrated by Netflix as a big success on the platform. "They said they're more powerful than critics now – you can feel the commercial throttle," he claimed.
Allen also highlighted Amazon's blanket offer to films at last year's Toronto International Film Festival to take their SVoD rights for a set amount of money detailed in a one-page info sheet given to all attending delegates. Since then, the offered amount for European films has decreased significantly. "It's a very small commitment for them and maybe says something about how they curate with these algorithms. It challenges everyone who is interested in auteur cinema," he claimed.
Speakers also vocalised reticence around the idea of algorithms playing into production.
In her keynote speech opening the event, Daniela Elstner, CEO of French sales agent Doc & Film, said: "I personally do not want to give in and leave my work to a business orientated machine that tells me which algorithm is the best one to make money. Culture can only survive if there are enough of us believing in it."
"I won't change the films I make [based on data], I produce movies I like to watch myself," commented Bertrand Faivre from French-UK production house The Bureau. "As a creator I won't make data-based creative decisions but I'll be very happy to conduct date-based negotiations."
The other side of the coin
Pitching in from the audience, Daniela Elstner also detailed a mixed experience with Netflix after securing a world rights deal with the company for her documentary Strong Island. She noted that the lack of European distribution had meant the film "did not exist for the European public" but that in the US Netflix had invested a significant amount into P&A and an awards campaign, which had eventually ended with the film recently being Oscar-nominated.
While this was an obvious positive, the lack of exposure for the project and its filmmaker in Europe had left her not knowing "whether to laugh or cry", and she had suggested to director Yance Ford that he should look for a traditional model (rather than further collaborating with Netflix) on his next project so that he could build up his reputation on the other side of the Atlantic.
Speaking on a panel later in the day, Uzma Hasan from UK-based production outfit Little House Productions took a positive view of the Netflix proposition. She said that following a deal she completed with Netflix for world rights to her company's 2016 horror title FirstBorn she had been able to track the film's subsequent success.
"The really powerful and exciting thing about having sold a film to Netflix is that it's been on [the platform] for a year now and people are still watching it," she said.
Both panels highlighted that the lack of available data, such as viewer figures, from a Netflix or Amazon release, was an issue. However, Hasan claimed that it has been possible for her company to mine some of its own data from the film's release.
"We discovered through social media that the film was doing amazingly well with audiences in Asia and that it had a huge following there, including fan websites. To have a tiny micro-budget British horror film be able to reach those people is incredibly powerful – it showed we were connecting with people globally. Netflix is discovering new fan bases."
Bertrand Faivre pointed out that data was a precious commodity for these companies and it was in their interest to monopolise it. "Their data is their asset, they would not share it," he said, adding that the film industry should be looking to produce its own data studies on a European level.
According to Isabel Davis, head of international at the British Film Institute (BFI), national organisations such as the BFI were already working on similar projects, "There is a concerted effort to assess statistics, a move towards coming up with proxies that will allow some form of intelligence to be gathered."
"We've had data ever since the film industry started and everyone ignored it," commented Hasan. "These conversations have been going on for a very long time. Hopefully [Netflix and Amazon] have accelerated the fact that data is really important and can be used intelligently."
Tomorrow (Jan 29), day two of Reality Check will include an in-depth discussion about how to harness data as well as a panel on how to attract new and diverse audiences.