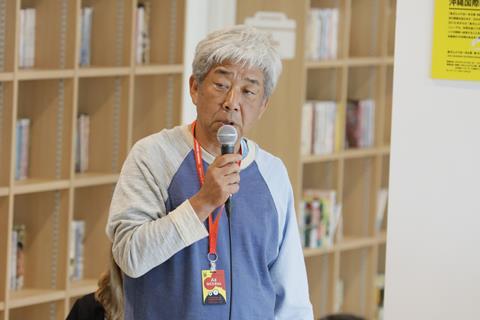 Japanese talent agency and media conglomerate Yoshimoto Kogyo plans to launch a streaming platform to distribute Japanese and Asian content to global audiences.
Yoshimoto has teamed with two other Japanese companies – digital services provider Transcosmos and cyber-security firm Blue Planet – on development of the platform, which has yet to be branded but is being referred to as the 'Asian Entertainment Platform'.
While the official launch date has not been set, Yoshimoto president Hiroshi Osaki said he wanted to introduce the platform at this year's Okinawa International Movie Festival (OIMF, April 19-22), which was launched ten years ago by the Osaka-based entertainment giant.
In an interview with Screen ahead of the press conference, Osaki pointed to the growing global presence of US and Chinese platforms, such as Netflix, Amazon and China's Bilibili, and said Japan would fall behind if it didn't start to develop its own digital services.
"We lost the 20th Century to the United States, because Hollywood succeeded in building a $10bn theatrical distribution model, and we'll lose again in the 21st Century if we don't build our own global platform," said Osaki.
"Japan may still have a chance to build something, and this is where we should be focusing our efforts. We'll lose out to the US and China if we don't."
The new platform aims to discover and develop new talent, as well as distribute content across a wide range of formats, ranging from films and TV series to music, manga, anime, games, VR/AR and videos of live performances. In addition to managing around 6,000 comedians, actors, musicians and other performers, Yoshimoto operates a string of theatres across Japan.
Part of the funding for the platform will come from a $55m-$90m (Y6bn-Y10bn) contents fund that Yoshimoto is planning to launch with other private companies. The methods of monetisation will be equally broad, spanning advertising, subscriptions, transactional VOD and tipping content creators with micro payments.
MCIP Holdings, a joint venture company established by Yoshimoto and five other partners, including Dentsu, Dwango and Sony Music, will collaborate with the platform on promotion and developing content. Launched in 2014, MCIP is also backed by the Japanese government's Cool Japan fund and aims to export Japanese talent into other Asian markets.
Speaking at the OIMF press conference, Osaki said he hoped the platform would also promote new business and employement opportunities in the Okinawan entertainment industry. Yoshimoto is also supporting the local industry through a new school, Laugh & Peace Entertainment School, which opened this month in Okinawa's capital city, Naha.
Although it has its own global digital ambitions, Yoshimoto has been actively co-producing with both Netflix and Amazon over the past few years. The company produced a 10-episode series with Netflix based on Naoki Matayoshi's novel, Hibana: Spark, while its productions with Amazon include Documental, an entertainment show presented by Hitoshi Matsumoto, and reality show Bachelor Japan.