The Bourne franchise reboot and Ice Age: Collison Course boosted this week's box office takings.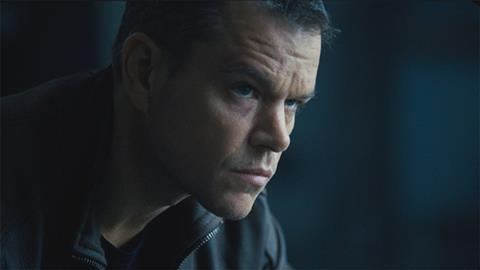 Jason Bourne landed first place at the Chinese box office in the week of Aug 22-28, raking in $48.02m from its first six days. It posted the biggest opening for the Bourne franchise in China and already passed the cumulative results of the previous Bourne films in the market.
Its Tuesday opening ($11.78m) was the biggest single day for Universal's action sequel, which continued to dominate the box office until Sunday when it was narrowly out-grossed by Ice Age: Collison Course.
In a close second, Ice Age opened with a six-day total of $41.52m since Tuesday. Fox's family animation sequel is set to clock a new record for the Ice Age franchise in China, as it has overtaken its predecessor Ice Age: Dawn Of The Dinosaurs and will have no problems surpassing Ice Age: Continental Drift.
Three popular holdovers held well this week. Hong Kong cop drama Line Walker dropped to third position with $11.50m for $82.62m after 18 days; followed by Time Raiders, currently this year's biggest summer blockbuster, with $4.65m for $145.23m after 24 days, and Love O2O with $4.19m for $38.26m after 17 days.
The rest of the chart was filled by local animation New Happy Dad And Son 2 on $3.47m for $11.38m after 10 days; Russian fantasy adventure On-Drakon on $1.92m for $8.53m after 10 days; Disney's local nature documentary Born In China on $1.62m for $7.88m after 17 days; and Universal's animation The Secret Life Of Pets on $1.39m for $57.46m after 27 days.
The two table-topping Hollywood films accounted for over 70% of the week's takings. Other new releases (such as Korean director Kwak Jae-yong's Chinese romance Crying Out In Love and Michelle Yeoh-starring Final Recipe) performed significantly less well and ranked outside the top 10. The only exception was Daniel Alfredson's crime thriller Kidnapping Mr Heineken, which rounded up the chart with $1.38m from its three-day opening weekend.
Thanks to the two new Hollywood films, last week's box office climbed approximately 11% year-on-year. As of yesterday, the total box office in August reached RMB3.86 billion ($580m), more than the whole of August last year.
Upcoming releases include Star Trek Beyond, Days Of Our Own, Southpaw and Parasyte, all scheduled for Sep 2.