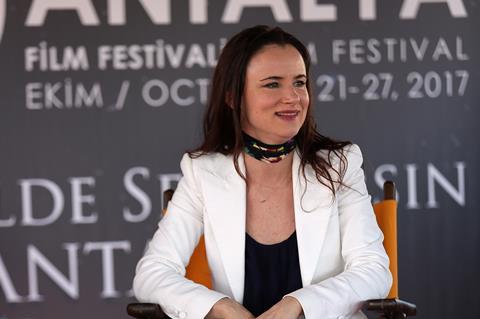 US actress Juliette Lewis told a masterclass at Turkey's Antalya International Film Festival on Sunday that she had never been subject to sexual predatory behaviour during her career, joking she was too scary.
Lewis had told press agents that the topic of the disgraced film mogul Harvey Weinstein and the resulting backlash against a culture of sexual predatory behaviour in Hollywood was off-limits.
But she agreed to answer a question on the issue during a public Q&A at the end of the masterclass, when asked by a local journalist whether she had ever been the victim of such behaviour.
"No, the good news is I scared everyone. Even at 15 people thought I might blow their head off. That's a good power to have," quipped the Natural Born Killers star, adding: "I'm kidding."
"I think in any field it's nice when things get revealed and people can stop oppressing other people. So, it's important in any line of work that people get found out for their crimes," she added on a more serious note.
Lewis, who is an honorary guest of the Antalya, was presented with the keys to the city on Turkey's Mediterranean Riviera at the opening night ceremony on Saturday.
Career highlights
In a masterclass on Sunday afternoon, Lewis discussed a number of career highlights kicking-off with her big break opposite Robert De Niro in Martin Scorsese's Cape Fear.
She recalled how the both the media and spectators assumed at the time of the film's release that Scorsese had discovered in her a girl who corresponded to her character of Danielle Bowden, the at once innocent and provocative teenager who falls under the charm of serial rapist Max Cody.
"I was 18 when I did Cape Fear, playing a 14-year-old, and so many people thought that Scorsese had just found me and that I really was that girl but I wasn't," said Lewis.
"I auditioned for it. That character is based on a young girl I met in a park who was holding a kitten. When I play a character, I like to get inspiration from my environment… she had these bangs and looked like she had a secret. She was a huge inspiration for this role," continued Lewis, giving an insight into her methodology as an actress.
Lewis talked warmly of the influence her father, the late, respected character actor Geoffrey Lewis, had had on her decision to become an actress.
"My dad wasn't a man of a lot of advice, but he would encourage whatever his kids were interested in so for instance I liked music. I saw the movie Flashdance, or Fame, and I wanted to sing and dance so he signed me up for classes," she recalled.
"What's funny is that when I was 15 my dad gave me a book of the worst female killers in history and now looking back was this a prophecy because I then went on to play in Natural Born Killers. But I think he was like, if you do anything you better be the baddest and the best."
Time off
Lewis said she had always sought variety in her career and had even taken time out at the height of her early fame in the 1990s to figure out what she wanted to do artistically.
"I got successful when I was very young, I took time off, because I never wanted to feel like I was being controlled by a system or ideas of how one should be so I took time to explore as an artist what it is I want to say and do. And then I got into music later because I thought I should be braver with that. I had always wanted to write and sing so finally at age 30, I got it together to form a band," she said, referring to her band Juliette And The Licks.
Speaking about more recent big screen credits, Lewis referred to the dysfunctional family drama August: Osage County as one of her favourite productions of recent years in which she co-starred as the delusional character of Karen alongside Meryl Streep and Julia Roberts as her sisters.
"it was one of those moments, I read the script and it was so beautiful. Tracy Letts is the writer. He's our generation's Tennessee Williams," said Lewis. "The character that I play, she was so filled with denial. I just love characters that are not like myself. I understand the heart and soul of the people I'm playing. The way it was written and the dialogue – it was so top notch. It was highly unusual you get something that strong."
The Antalya International Film Festival runs until Sept. 27.