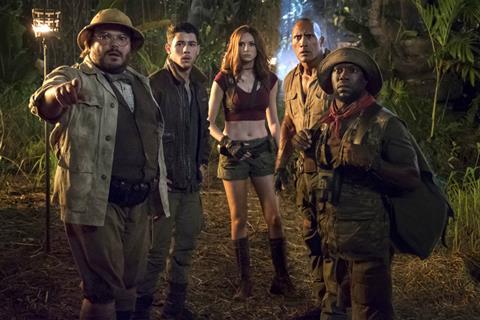 UK top five
| Rank | Film / Distributor | Weekend gross (Fri-Sun) | Running total | Week |
| --- | --- | --- | --- | --- |
| 1 | Jumanji: Welcome to the Jungle (Sony) | $5.28m (£3.9m) | $35.6m (£26.3m) | 3 |
| 2 | Star Wars: The Last Jedi (Disney) | $4.9m (£3.6m) | $103.9m (£76.7m) | 4 |
| 3 | The Greatest Showman (Fox) | $3.3m (£2.4m) | $13.54m (£10m) | 2 |
| 4 | Pitch Perfect 3 (Universal) | $2.2m (£1.63m) | $17.2m (£12.67m) | 3 |
| 5 | All the Money in the World (Sony) | $1.6m (£1.2m) | $1.6m (£1.2m) | 1 |
Sony
In its third week of release, Jumanji: Welcome to the Jungle moved into top spot at the UK box office, dropping 26% on its way to $5.28m (£3.9m). The film now sits on an impressive $35.6m (£26.3m), passing the total takings of Sony's The Amazing Spiderman to become the company's 11th highest grossing UK release of all time.
Christopher Plummer being parachuted in to replace Kevin Spacey in Ridley Scott's All the Money in the World didn't derail the film's UK opening, which saw it take $1.6m (£1.2m) from 486 screens for a respectable site average of £3,344 (£2,469). However, that number doesn't compare well with Scott's batting average – it's his fifth worst opening in the territory.
Disney
After holding impressively last week, dropping just 22% over the bank holiday, Star Wars: The Last Jedi suffered a much larger dip in week four – posting $4.9m (£3.6m) for a fall of 55%. The film now sits on $103.9m (£76.7m), making it the UK's sixth biggest film of all time – Titanic on $108.8m (£80.3m) looks set to be sunk next.
Fox
In its second week, The Greatest Showman posted the best hold in the top ten, falling a slender 7% on the previous Fri-Sun session with a non-final $3.3m (£2.4m) from 652 sites for an average of $5,056 (£3,733). The film now sits on $13.54m (£10m) in the UK.
Family animation Ferdinand fell 40% in its third week, taking $1.1m (£842,000) for a cume of $11.4m (£8.39m) to-date.
Universal
Pitch Perfect 3 fell 30%, taking $2.2m (£1.63m) this weekend to put it on $17.2m (£12.67m) to-date. The film has doubled the takings of the first instalment, which took $6.7m (£5m) in 2012, but still has some way to go to eclipse the $23.55m (£17.4m) posted by Pitch Perfect 2 in 2015.
eOne
The Aaron Sorkin-directed Molly's Game opened in the UK this week with Fri-Sun takings of $1.53m (£1.13m) from 489 sites for a respectable site average of $3,131 (£2,311). The film's full opening weekend is $3.09m (£2.28m), including previews of $1.56m (£1.15m).
Studiocanal
Paddington 2 took a further $1.40m (£1.03m) this weekend, putting it on $54.72m (£40.4m) to-date.
Curzon
2017 Cannes premiere Jupiter's Moon opened in 10 sites, taking $8,021 (£5,923).
Thunderbird
Benedict Cumberbatch-narrated documentary Walk With Me opened in 14 screens, taking $40,818 (£30,142). Including previews, the film sits on $61,275 (£45,249).
Vertigo
The Ben Stiller-starring Brad's Status posted an opening of $45,475 (£33,579) from 78 sites for a meek average of $584 (£431).