A Good Wife won best film in the Balkan competition, while the best pitch prize went to The Witch Hunters, but the festival faces an uncertain future.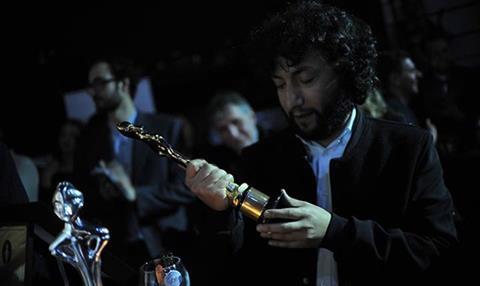 Kosovo's Pristina Film Festival (April 22-29) has revealed the winners for its 8th edition, after bouncing back from last year's government funding cuts, which saw the festival held in exile in Albania.
The jury overseeing the festival's Balkan competition, dubbed the Honey & Blood program, awarded its best film prize to A Good Wife (Dobra Zena), which Serbian actress Mirjana Karanović wrote, directed and also starred in.
Snezana Penev [pictured right] produced the film, which was a Serbia-Bosnia-Croatia co-production and premiered at this year's Sundance Film Festival.
The competition's jury, comprised of Pluto Film's Jana Wolff, Belgian actor Jehon Gorani and Swiss producer Dario Schoch, awarded best director to Turkish film-maker Kaan Müjdeci [pictured top] for his feature debut Sivas, while best actor went to Assen Blatechki for Bulgarian drama The Judgment, and best actress went to Tihana Lazovic for Croatia-Serbia-Slovenia co-pro The High Sun (Zvizdan).
Elsewhere, the jury of the festival's European Program – comprised of UK theatre director Ramin Gray, South African producer Cheryl Johnson, and Danish producer Katrin Pors - gave the best film prize to Grímur Hákonarson's Icelandic drama Rams, with a special jury prize for Jonas Carpignano's Mediterranea. The Media Prize, awarded by journalists from the region, was divided between Deniz Gamze Ergüven's Mustang and Carlos Marques-Marcet's 10,000 KM.
PriForum
This year's festival featured an expanded industry programme, which ran April 23-27.
The inaugural Pristina Rendezvous, a one-day event for distributors and international sales agents to meet talent from the region, drew representatives from companies including Memento Films, Indie Films and Le pacte.
The best pitching session, run in partnership with the Torino Film Lab, crowned The Witch Hunters (Zlogonje) as its best project. The film will receive $1.2k (€1k) courtesy of the Vanessa Redgrave Awards.
From first-time director Rasko Miljkovic and producer Jovana Karaulic (production manager on Sang Man Kim's 2014 Japan-Serbia-South Korea co-pro The Tenor), the Serbian film project follows a young boy born with mild cerebral paralysis who retreats into a world of imagination. After making a friend in the real world, a witch threatens his newly found happiness.
Budgeted at $572k (€494k), the film has to-date received a $290k (€250k) grant from the Serbian Film Centre.
The Future
"I am happy we've brought the festival back home after last year's exile," commented festival director Vjosa Berisha, referencing the 2015 edition of PriFest, which was cancelled following ministry cuts.
Speaking to Screen, Fatos Berisha revealed that while government funding had been partially restored this year – with increased sponsorship making up for the deficit - the amount was still 50% down on the 2014 grant.
One of the major challenges facing the festival is finding audiences: "This is an educational process for our audience who are not used to cinema because we lack cinemas in Kosovo [the entire country only has two], so we don't expect to profit from tickets right now," Vjosa Berisha explained
However, she cited "10-12,000 visitors including the free open air screenings" as a sign of significant progress, meaning they remain optimistic of attracting increased audiences to future events.
But the long-term future of the event will rely more on sustained funding, which both directors see as a concern.
"We have concerns constantly about funding as Kosovo is very unstable in this sense. This is why we need Creative Europe and Media program support for our arts and cultural activities. Government institutions haven't been consistent in this matter and that is a problem," Vjosa Berisha said.
"An event like PriFest is important for the development of our filmmakers and industry. I believe that if we become eligible for these international funds, the attitude of our politicans towards arts and culture will change too," she added.
Over the opening weekend of this year's edition, festival directors Vjosa and Fastos Berisha issued a petition calling for free movement for Kosovan film-makers in Europe and access to European funding. Industry delegates including producer Cedomir Kolar were amongst initial signatories.