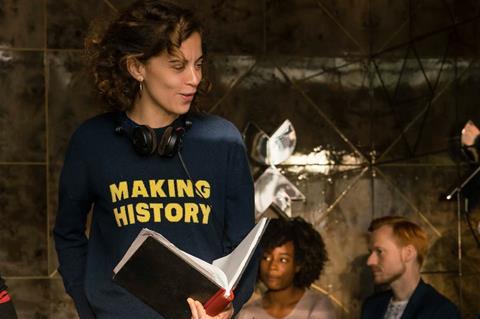 Moroccan director Laïla Marrakchi broke out internationally in 2005 with debut feature and Cannes Un Certain Regard selection Marock, a Casablanca-set love story between a Jewish boy and Muslim girl, which she followed with the 2013 female-focused family drama Rock The Casbah.
The Paris-based, Casablanca- born director has not made a feature film in seven years, however, having become caught up in the high-end drama boom, taking directing credits on French language series Marseille, The Bureau, The Eddy and most recently L'Opera, set against France's iconic Le Garnier Opera house.
She is now plotting a return to her first love of cinema with the Spain-set drama La Más Dulce., Inspired by real events, it is about three Moroccan women working as strawberry pickers in the Spanish region of Andalusia who decide to fight back against the appalling living and working conditions and culture of sexual harassment.
Marrakchi will present the project at the co-production market of the fourth edition of the Marrakech International Film Festival's Atlas Workshops project incubator event, which will run online November 22-25.
The filmmaker's diversion into series came after her second film Rock The Casbah did not enjoy the same level of festival attention, critical acclaim and box office success as her debut Marock. "The film has its public, but I can be very tough on myself and ended up feeling quite fragile around the time of its launch. I didn't feel ready to throw myself into a personal project straightway," she says.
An offer to work on Eric Rochant's French spy seriesThe Bureau got her back on the director's saddle. "It's a different process, you're directing other people's material, but it has introduced me to other universes, enabled me to work with great actors, practice my craft and experiment in a way I couldn't do on my own projects," says Marrakchi.
She is now taking a "pause" from drama commissions to focus on La Más Dulce as well as the Casablanca-set drama series Casa Girls, which she initiated and is being produced by Michael Gentile at Paris-based company The Film.
Her BFI-backed English-language project My Sister Lives On The Mantlepiece also remains on the boil but she has dropped plans for a big-screen adaptation of late writer Peter Bowles's novella Here To Learn.
Updates on La Más Dulce
Having first revealed her plans for a drama on abused strawberry pickers in late 2019, Marrakchi doubled down on development during the pandemic and now has a first draft of the screenplay, co-written with Delphine Agut.
The inspiration for La Más Dulce, which translates as "very sweet", came from a trip Marrakchi made to Spain's strawberry-producing province of Huelva with her friend and journalist Aida Alami to meet a group of female Moroccan pickers who had filed lawsuits alleging abuse by their employers. Alami would go on to write an investigative article for the New York Times.
"My film is a fictional story inspired by these true events. It's a very current story bringing in elements of sexual harassment, MeToo, speaking out, ecology, capitalism and even colonialism," says the director.
Marrakchi worked with a high-profile cast on Rock The Casbah, led by Nadine Labaki and Hiam Abbass as well as her Marock discovery Morjana Alaoui, but for La Más Dulce she plans to cast newcomers, and perhaps even women with experience of working in the strawberry fields.
"Amateurs will be an important part of the cast even I end up also bringing in professionals too," she says.
Having developed the project under her own steam over the last two years, Marrakchi now wants to attach more producers to the project.
Paris-based Moroccan producer Said Hamich has recently come on board as co-producer. Working between Paris and Casablanca, Hamich's recent credits include Zanka Contact. Marrakchi is particularly keen to attach a Spanish producer to the project too.
"The aim is to shoot in Spain but it's a controversial topic so we'll see how it pans out. There will also be some shooting in Morocco because elements of the story also take place there," she explains.
"Every new film is a fresh start," she says. "I found it interesting at this stage in the project's development to participate in the workshops. I've been on the other side of the process as a jury member in 2019, and I really like and trust the team."
As well as the presentations and one-to-one meetings with the industry professionals from November 22-25, all the participating projects had tailormade sessions with industry consultants and coaching for the pitching sessions. French filmmaker Boris Lojkine was attached as a mentor to La Más Dulce.
"I've been writing with my screenwriter for a year and it's the first time we've given the screenplay any exposure," says Marrakchi. "It's been a great way to get the screenplay read, be accompanied, make the project exist and to start a conversation around the film."