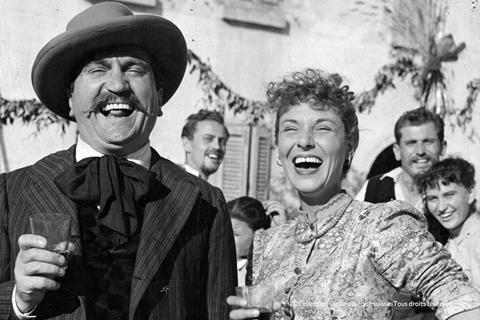 The Locarno Film Festival will turn the spotlight on the work of late Italian director Alberto Lattuada for the retrospective of its 74th edition, scheduled to run from August 4- 14 this year.
The programme, which will be curated by Roberto Turigliatto, is the first element of Locarno's 74th edition to be unveiled by the festival's newly appointed artistic director Giona A. Nazzaro.
Plans have been dropped for a retrospective celebrating the work of Japanese director and actress Kinuyo Tanaka, which was announced by Nazzaro's predecessor Lili Hinstin for last year's cancelled edition as the festival's first-ever retrospective dedicated to a female artist.
Growing up under the shadow of fascism in Milan, Lattuada was the son of a composer Felice Lattuada. His father encouraged him to complete an architecture degree, in a move that would have a bearing on the style and aesthetics of his filmmaking.
Lattuada's 40-year filmmaking career began with the 1943 literary adaptation Giacomo The Idealist and ended with the 1986 romantic drama A Thorn In The Heart, although the director continued to work in TV into the late 1980s.
"Rediscovering the complete output of Alberto Lattuada will effectively allow the best -kept secret of Italian cinema to see the light of day: a secret that is paradoxical, fascinating, and still mysterious," said Nazzaro.
"Alberto Lattuada's filmography is exciting, fertile and stratified. His auteur gaze was restless and curious, generous and political, he was able to preserve his own singularity and individuality while always putting himself to the test, experimenting with film genres but never losing his rapport with the movie-going public."
Regarding the decision to cancel the Kinuyo Tanaka retrospective, a spokesperson for the festival said: "The programme was a personal choice of [former artistic director] Lili Hinstin. Therefore, in respect to her work and despite it is a great programme, we have decided to propose another author to our audience for the next edition of the festival."
The retrospective is organised by the Locarno Film Festival in collaboration with Cinémathèque Suisse and Italy's Cineteca Nazionale – Fondazione Centro Sperimentale di Cinematografia, Fondazione Cineteca di Bologna, Fondazione Cineteca Italiana and Istituto Luce-Cinecittà.
Nazzaro and his team are working towards running a physical 74th edition in August in Switzerland.