The documentarian talked about the fallout from My Scientology Movie, which examines the controversial religion.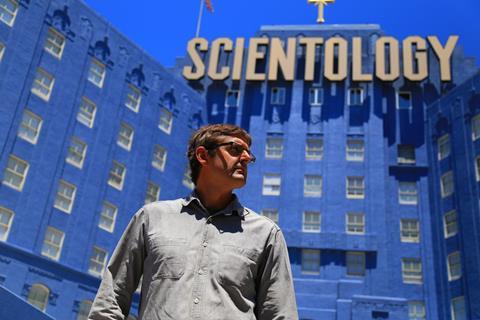 British filmmaker Louis Theroux has revealed an "ongoing scary legal scrutiny" by the Church of Scientology nearly a year after making documentary My Scientology Movie.
Speaking at Sheffield Doc/Fest, where the film screened on Saturday (June 10), Theroux said: "Since making it little things have happened.
"Anything I, John [Dower, director] or Simon [Chinn, producer] say or tweet will be on the radar of the Church of Scientology and they are looking for slip-ups, grounds for legal suits. There's an ongoing scary legal scrutiny."
Theroux recalled one particular incident when police arrived at his home to inform him of a threat of violence.
The documentarian said police had received "a threat phoned in by the Church of Scientology in East Grinstead [who] were worried you might get hurt. They said someone had seen your film and they really didn't like it and had phoned [the Church] with a threat."
"Something about that really doesn't make any sense," Theroux joked with the audience. "I actually quite liked it, they're using those old school tactics."
Theroux hinted that he may be in trouble regarding a message he posted on Twitter about the Church, but Dower pulled him up before he could explain further by reminding him that they did not have their lawyer in the room.
"You have to be very careful what you say," Theroux added.
However, Theroux insisted it is those who have defected from the Church that receive the majority of its ire: "Marty [a former Scientology senior executive who appears in the film] is the main recipient of the attention from the Church."
"Marty had them living outside his house for a year, imagine that," added director Dower.
Theroux concluded the Q&A with a simple summation of his cumulative feelings now the film's journey is completed: "There is something very weird about Scientology."
Directed by John Dower (Thriller In Manilla), My Scientology Movie was produced by Oscar-winner Simon Chinn (Searching For Sugar Man) for his company Red Box Films, with funding from BBC Films and BBC Worldwide, and premiered at the London Film Festival in October 2015.
HanWay represent international sales and closed deals with Magnolia for US rights and Altitude for UK at Cannes this year.
It marks the first time that Theroux, who worked with Oscar-winning documentary filmmaker Michael Moore early in his career and is perhaps best known for his films about extreme organisations on the fringes of society, will see a theatrical release for his work.