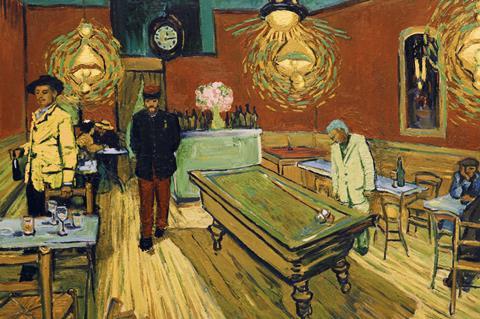 Loving Vincent is poised to cross the $1m mark in North America on a roll-out strategy that will see the world's first fully oil-painted feature film released in more than 100 US and Canadian theatres this weekend.
Polish painter and animator Dorota Kobiela is director, while her Oscar-winning husband, Hugh Welchman, is co-director. The film was released in the US on September 22 through Good Deed Entertainment.
Edward Noeltner's Cinema Management Group handles international sales on the awards season prospect. In Poland, distributor Next Film will cross 150,000 admissions this weekend after only 14 days in release.
Loving Vincent continues to perform well in Italy, where distributor Adler's event release opened at number one on October 16, with more than double the daily box office of Blade Runner 2049. Loving Vincent has garnered more than 120,000 admissions and is approaching $1.3m after three days.
The BreakThru Productions and Trademark Films Polish-UK co-production has also started strongly in Switzerland, the Middle East, Vietnam and Chile, and will release in over 130 territories in the coming months.
Hand-painted in Gdansk and Wrocław, Poland, with a smaller satellite studio in Athens, Greece, the film was created by 125 painters, selected from over 5,000 applicants from around the world, to complete some 65,000 hand painted frames. Douglas Booth, Saoirse Ronan and Chris O'Dowd star in the film that won the audience award at the International Animation Festival in Annecy in June.
After a successful initial Kickstarter campaign, the film was backed by funders including Silver Reel, RBF Productions, Sevenex Capital Partners, the Polish Film Institute and the Doha Film Institute.
Welchman produced, along with his BreakThru partner Sean Bobbitt, and Trademark Films' Ivan Mactaggart. Clint Mansell wrote the score.
Welchman said: "It was a tough journey, but with support initially from within Poland, and then from adventurous individuals, companies and organisations from a whole range of countries who all passionately believed in this film, and with the incredible commitment of our talented painters and amazing cast, we were able to bring Loving Vincent to audiences all over the globe."