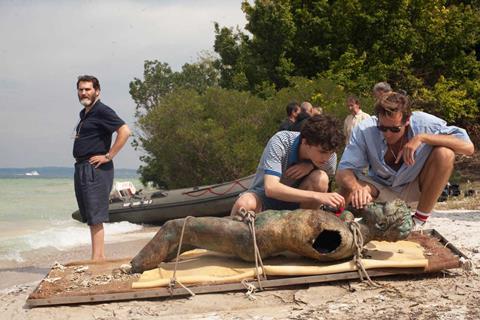 Director Luca Guadagnino is planning a sequel to Call Me By Your Name, which would be set seven years after the events depicted in his acclaimed adaptation of André Aciman's 2007 novel.
The film stars Timothee Chalamet and Armie Hammer as 17-year-old Elio and 24-year-old American doctoral student Oliver, who embark on a passionate relationship one summer in the 1980s while both are living at Elio's parents' villa in Italy.
"I want to do a sequel because Timothée Chalamet, Armie Hammer, Michael Stuhlbarg, Amira Casar, Esther Garrel – they are all gems," said Guadagnino during a sit-down at the BFI London Film Festival, where Call Me By Your Name played as a gala. "The texture we built together is very consistent. We created a place in which you believe in the world before them. They are young but they are growing up."
Guadagnino added that his ideal scenario would be for the second film to be made for a 2020 release. "If I paired the age of Elio in the film with the age of Timothée, in three years' time Timothée will be 25 as would Elio by the time the second story was set," said the filmmaker.
Hammer's character Oliver would be 31 in Guadagnino's planned sequel – "which will be closer to the age that Hammer will be at the time". The US actor, who shot Call Me By Your Name when he was 29, will turn 34 in 2020.
In Aciman's original book, Elio and Oliver meet up 15 years later in the US, where the latter is now married with a wife and children. Guadagnino didn't reveal whether he wanted to follow that storyline (albeit in an earlier time frame), but did reveal that Elio would not necessarily be homosexual.
"I don't think Elio is necessarily going to become a gay man. He hasn't found his place yet. I can tell you that I believe that he would start an intense relationship with Marzia [Esther Garrel's character] again," he said.
Another attraction for Guadagnino is that the time frame would mean that the action in the sequel would take place around 1990: "It is the time of the fall of communism and the start of the new world order and the so-called 'The End of History' that Francis Fukuyama established then. It would be the beginning of the Berlusconi era in Italy and it would mean dealing with the war of Iraq."
Looking even further ahead, Guadagnino said that should a second film be successful, he could envisage Elio being his own career Antoine Doinel – the recurring fictional character Francois Truffaut featured in several films throughout his career, starting with his debut The 400 Blows (1959).
"It would be that the screen and real life could talk to one another and it would be good to see how this evolves, which is what Truffaut did with Antoine Doinel. I think we can go there."