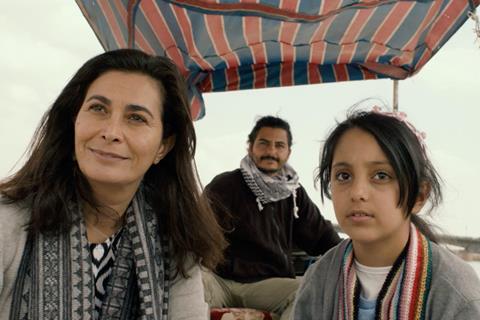 Cairo-based Mad Solutions has boarded Arab sales and distribution rights for 11 anticipated films from the Middle East and North Africa, most of which are now in post-production.
It is handling three of the titles with Shahinaz El-Akkad's Lagoonie Film Production: Amira, Huda's Salon and Daughters Of Abdulrahman
Amira, the third film from Egypt's Mohamed Diab following the award-winning dramas 678 and Clash, is in post-production. Palestinian Oscar-nominated director Hany Abu-Assad thriller Huda's Salon is midway through shooting.
Daughters Of Abdulrahman is the debut feature of Jordanian filmmaker Zaid Abu Hamdan and is about four estranged sisters reunited in the search for their missing father.
It marks a first foray into distribution for Lagoonie Film Production, which was created in 2017 by Shahinaz Al Akkad, as part of her larger Lagoonie Group. It operates across the entertainment, tourism, hospitality, food and beverage sectors.
Al Akkad said she was joining forces with Mad Solutions on distribution out of a desire to see Arab films circulate more widely within the Middle East, outside of their home territories.
"Arab Cinema has a huge potential for more audience, exposure and more success and that's why we started working on different key Arab films by renowned filmmakers or new talents," she said. "As Arabs we should be more working together, helping to build more stable industry."
Solo acquisitions
The solo acquisitions for Mad Solutions include UK-Iraqi filmmaker Maysoon Pachachi's long-gestating, provisionally-titled Another Day In Baghdad, capturing intersecting lives against the backdrop of sectarian violence in the city in 2006. The film is post-production.
The slate also features US director Jane Spencer's South of Hope Street, starring Egyptian actor Asser Yassin as an aspiring refugee writer who ends up working as a janitor in an unspecified European country.
Further titles include Amaan-set drama The Alleys, the debut feature of Jordanian director Bassel Ghandour, who took co-writing credits on Oscar-nominated feature Theeb.
Egyptian titles include Islam el Azzazi's fantasy mystery tale About Her and documentary The Life And Times Of Oman Sharif by Axel Petersén and Mark Lotfy.
The new slate also features Palestinian filmmakers Tarzan and Arab Nasser's Gaza Mon Amour (previously announced as Apollo), for which Paris-based sales company Versatile is selling all other international rights.
There are also two Lebanese dramas: Harvest by Ely Dagher and Under The Concrete by Roy Arida.
Mad Solutions celebrates its 10th anniversary this year and had been due to celebrate at the Cannes Film Festival in May. These plans are on hold for now. The company is instead active on the Cannes virtual Marché du Film supporting its new films.
"It's tough year for any theatrical distribution plans and for any exposure at films festivals, but also it's a golden age for all kinds of content, and we're still working to get the films the right exposure and distribution," said Mad Solutions co-founding chief Alaa Karkouti.