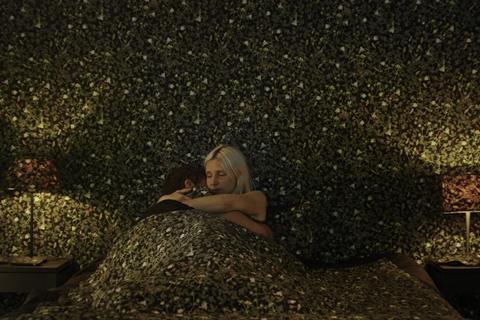 Comedy-drama Madly In Life and Oscar international feature longlist entry Playground lead the nominations in Belgium's Les Magritte du Cinéma awards focused on French-language Belgian cinema.
The awards are due to take place in Brussels for the first time in two years on February 12 after the 2021 edition was cancelled due to the Covid-19 pandemic. As a result of the cancellation, films from 2020 and 2021 are in the running for this year's edition.
Raphaël Balboni and Ann Sirot's Madly In Life topped the nominations making it into 12 categories including best film, director, first film and screenplay. The last film to achieve this number of Magritte nominations was Bouli Lanners's The Giants in 2011.
Playground came in second with 10 nominations, followed by Joachim Lafosse's The Restless and Fabrice Du Welz's Adoration with six nominations each. Working Girls by Frédéric Fonteyne and Anne Paulicevich received three nominations.
Cannes Palme d'Or winner Titane – a French-Belgian co-production – also featured prominently with five nominations. Liege-based company Frakas Productions was a minority partner on the film, which used some Belgian cast and crew.
Madly In Life revolves around a couple in their 30s who are desperate for children. They unexpectedly find themselves learning parenting skills, however, when the husband's mother develops semantic dementia leading her to behave in an unpredictable and childish manner.
While the film has not played any A-list film festivals, it has received a warm reception at a raft of smaller European festivals including Namur and Tallinn. It is produced by Hélicotronc with Be For Films handling sales.
Playground world premiered in Cannes's Un Certain Regard last summer, where it won the Fipresci prize. The Restless also debuted in Un Certain Regard last year while Adoration world premiered in Locarno in 2019.
The Belgian film awards are named after surrealist painter Réné Magritte and run by the Académie André Delvaux, whose members include filmmakers, producers and other cinema professionals from the French-speaking Belgian community.
Magritte nominations in key categories:
Best Film
Adoration, Fabrice Du Welz
Working Girls, Fréderic Fonteyne and Anne Paulicevich
The Restless, Joachim Lafosse
Playground, Laura Wandel
Madly In Life, Ann Sirot and Raphaël Balboni
Best First Film
Mothers Schmuckers, Harpo and Lenny Guit
Jumbo, Zoé Wittock
Playground, Laura Wandel
Madly In Life, Ann Sirot and Raphaël Balboni
Best Director
Fabrice du Welz, Adoration
Joachim Fosse, The Restless
Laura Wandel, Playground
Raphaël Balboni and Ann Sirot, Madly In Life
Best Flemish Film
Dealer, Jeroen Perceval
La Civil, Teodora Ana Mihai
Rookie, Lieven Van Baelen
The Barefoot Emperor, Peter Brosens and Jessica Woodworth
Best Screenplay
Working Girls, Anne Paulicevich
The Restless, Lou du Pontavice, Pablo Guarise, Juliette Goudot, Joachim Lafosse, Chloé Léonil, Anne-Lise Morin, François Pirot
Playground, Laura Wandel
Madly In Life, Raphaël Balboni, Ann Sirot
Best French-language international co-production
Adam, co-produced by Patrick Quinet, Artémis Production
The Man Who Sold His Skin, co-produced by Annabella Nezri, Kwassa Film
Onoda, 10,000 Nights In The Jungle, co-produced by Jean-Yves Roubin and Cassandre Warnauts, Frakas Productions
Titane, co-produced by Jean-Yves Roubin and Cassandre Warnauts, Frakas Productions
Best Actress
Lubna Azabal, Adam *
Virginie Efira, Bye Bye Morons *
Lucie Debay, Jo Deseure, Madly In Life
Best Actor
Bouli Lanners, Love Song For Tough Guys *
Jérémie Renier, Slalom*
Arieh Worthalter, Hold Me Tight*
Jean le Peltier, Madly In Life
* Denotes films that do not qualify for best film, best first film, best Flemish film or best international co-production.