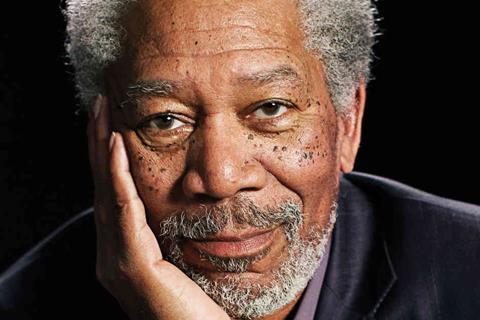 UPDATE: Morgan Freeman has apologised after accusations of sexual harassment by multiple women emerged on Thursday (May 24).
Eight women told CNN that they were victims of either harassment or inappropriate behaviour by the Oscar-winning actor. Another eight women said they had witnessed Freeman's alleged misconduct.
"Anyone who knows me or has worked with me knows I am not someone who would intentionally offend or knowingly make anyone feel uneasy," Freeman said in a statement released by his representatives. "I apologise to anyone who felt uncomfortable or disrespected — that was never my intent."
The inappropriate behaviour allegedly happend on set, at Freeman's production company Revelations Entertainment, and while he was promoting his films.
One of the women, a production assistant on Freeman's film Going In Style, alleges that he subjected her to unwanted touching and "kept trying to lift up my skirt and asking if I was wearing underwear".
Another, who was a senior member of the production staff on Now You See Me, said Freeman allegedly harassed her and her female assistant on multiple occasions by making comments about their bodies.
Three reporters said Freeman made inappropriate remarks to them during press junkets, including CNN entertainment reporter Chloe Melas, who was six months pregnant at the time. She said that whilst interviewing Freeman for Going In Style he looked her up and down, said "I wish I was there" and "you are ripe." Warner Bros confirmed to CNN that what Melas said was accurate.
Former Revelations Entertainment staffers described a "toxic" work environment, with six ex-employees telling CNN they witnessed inappropriate behaviour.
The Producers Guild Of America (PGA) moved to rebut a claim in the CNN report that Guild president Lori McCreary, who co-founded Revelations Entertainment with Freeman, spoke disparagingly of a female job candidate who had a family.
"The Producers Guild of America is an Equal Opportunity Employer that does not question or consider marital or parental status in its hiring practices," the statement read. "As soon as CNN notified us about the allegation, we investigated the matter and have found that it has no merit. Lori McCreary is an outstanding PGA President. In all of her work with the Guild, she has been a consistent, vocal, and proactive advocate for women and all who are underrepresented in our community."
Meanwhile Vancouver-based transport network TransLink has suspended a planned summer-long series of announcements using Freeman's voice pursuant to a deal with VISA, for whom Freeman is a spokesperson. TransLink had unveiled Freeman's role on Wednesday.
"In light of information we've learned this morning of allegations regarding actor Morgan Freeman, TransLink has decided to pause his voice announcements as part of a VISA ad campaign on our transit system," a TransLink spokesperson said. "We will be reaching out to VISA to discuss further."