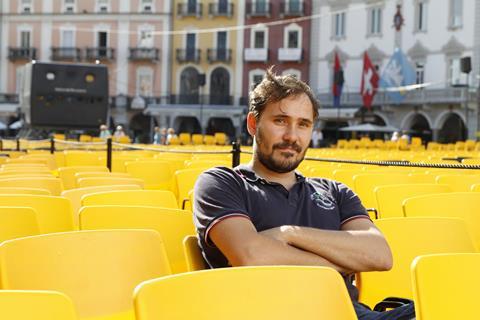 The Locarno Film Festival's Locarno Pro industry programme will likely unfold as a hybrid event next year, but with its virtual component taking place after its scheduled physical dates of August 4-14, says newly-appointed head of industry Markus Duffner.
Long-time Locarno Pro collaborator Duffner was announced on Monday (Dec 21) as the new head of the industry programme and is already mulling plans for the 2021 edition ahead of his official start date on January 1. The 2020 edition of Locarno Pro took place online due to the Covid pandemic.
"It's difficult to predict the sanitary measures we'll have to follow so it's too early to give details of the final format but both the festival and Locarno Pro are working in an optimistic way to create a physical event, bringing back all the initiatives we put on hold last year," he told Screen. "But we don't know, for example, whether we'll be able to run our traditional opening party or happy hours… that will be decided closer to the time."
Duffner said the Locarno Pro team's current thinking is to focus on physical activities on-site during its scheduled dates, with follow-up virtual initiatives outside of that timeframe.
"What we have learned from participating in other events mixing physical elements with virtual ones, is that it can be kind of time-consuming and stressful moving between a physical event into a virtual one, where you're logging onto your iPad or computer at the same time as been surrounded by people and the noise of people talking."
Key components of Locarno Pro which were put on ice in 2020 included guest territory-based, works-in-progress showcase First Look, networking platform Match Me!, aimed at supporting emerging producers from around the world, and Alliance For Development, which fosters co-productions between Switzerland and its neighbours of Italy, France and Germany.
Duffner said a guest territory for the First Look was in the process of being finalised while the Locarno Pro team would start putting out feelers for partner organisations for Match Me! in early 2021.
There are also plans to expand the reach of Locarno Pro's fledgling Heritage Online platform, which Duffner spearheaded the launch of in 2020. The year-round project aims to connect rightsholders of heritage cinema titles with digital distribution partners.
The idea for the platform grew out of Duffner's own experiences trying to source titles for his VoD platform Spamflix, which he co-founded with Julia Duarte in 2018 and specialises in rare cult films.
"It's an increasingly dynamic market and the creation of Heritage Online has come at the right time," he said.
He notes that Locarno Pro recently ran a panel during Argentina's Ventana Sur market on the Latin American heritage industry. He hopes to hold similar events focused on Swiss cinema heritage in early 2021 and a wider panel during Berlin's online European Film Market in March.
Streaming shift
Beyond these initiatives, Duffner says the 2021 programme will also be focused on the industry's efforts to reboot after the challenges of 2020 as well as trends that accelerated as a result of the pandemic, most notably the rise the streaming platforms.
"The covid pandemic has further shifted the paradigms in the industry key chain," he said. "The transition to an environment in which the streamers are a key part of this chain has accelerated and is close to becoming the norm."
Duffner suggests that 2021 will be the year in which lines will be drawn on how the streaming platforms and the rest of Europe's film and TV industry will interact as territories across Europe, led by France, put in place new legislation around funding obligations and release windows for these global players.
"I really believe that the new laws and the shift in production and producer attitudes will be very important," he said.
He suggested this is also having a knock-on effect for other parts of the production and distribution chain such as sales.
"Producers are less and less interested in working with sales agents purely as a way to sell their films. They're looking for partners who will get involved early on, rather than a commercial transaction cemented by a minimum guarantee."